Economic
Last Update: 06-Mar-14 08:53 ET
Initial Claims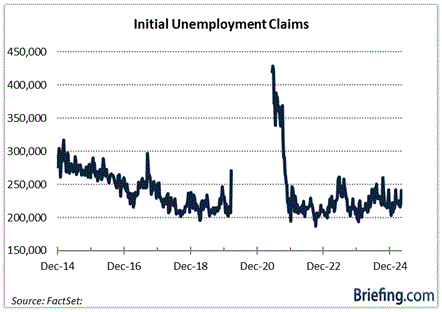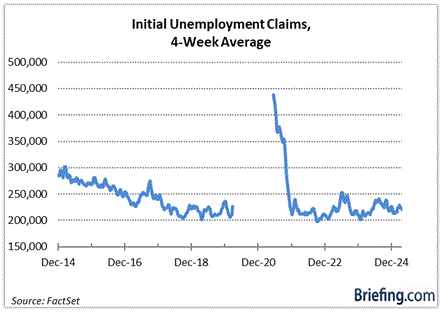 Highlights
The initial claims level fell to 323,000 for the week ending March 1 from an upwardly revised 349,000 (from 348,000) for the week ending February 22. The Briefing.com consensus expected the initial claims level to fall to 338,000.
The continuing claims level fell to 2.907 mln for the week ending February 22 from a downwardly revised 2.914 mln (from 2.964 mln) for the week ending February 15. The consensus expected the continuing claims level to increase to 2.973 mln.
Key Factors
The DOL stated that the decline in claims coincided with strong winter storms, which implies that companies were not able to lay off workers due to weather conditions or laid off workers were unable to apply for unemployment insurance.
While this is possible, a more likely explanation is that the DOL continues to have problems with its seasonal adjustments. The increase in claims for the week ending February 22 happened during a week with a national holiday. The DOL has had notorious difficulty lately adjusting the claims data for the holidays. Big swings in claims over two-week periods have become commonplace.
As holiday volatility settles down, the claims data should return to the 330,000 – 340,000 range.
Big Picture
The initial claims level should settle back into its long-term trend of 330,000 - 340,000.
| Category | Mar 1 | Feb 22 | Feb 15 | Feb 8 | Feb 1 |
| --- | --- | --- | --- | --- | --- |
| Initial Claims | 323K | 349K | 334K | 340K | 331K |
| 4-Wk Moving Avg | 337K | 339K | 338K | 337K | 333K |
| Continued Benefits | | 2907K | 2915K | 2956K | 2933K |
| 4-Wk Moving Avg | | 2928K | 2943K | 2951K | 2964K |