Economic
Last Update: 31-Jul-14 08:47 ET
Initial Claims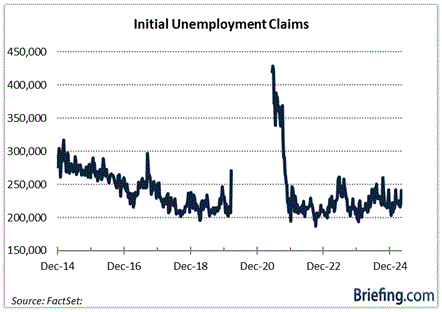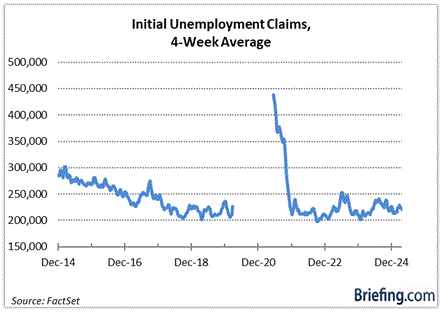 Highlights
The initial claims level increased to 302,000 for the week ending July 26 from a downwardly revised 279,000 (from 284,000) for the week ending July 19. The Briefing.com consensus expected the initial claims level to increase to 310,000.
The continuing claims level increased to 2.539 mln for the week ending July 19 from an upwardly revised 2.508 mln (from 2.500 mln) for the week ending July 12. The consensus expected the continuing claims level to increase to 2.525 mln.
Key Factors
Claims have fallen into a new lower range of around 300,000. This implies an improvement in labor market conditions and monthly payroll growth near 300,000.
There is some concern, however, that the decline in claims is a result of poor seasonal adjustments surrounding the motor vehicle industry. Plants that are normally closed during this period for retooling may have been kept open so production can match newfound heightened demand.
The BLS stated that there were no special factors that influenced the data, but we won't know for sure if seasonal biases have artificially lowered the claims data for a few weeks.
Big Picture
The initial claims level remained near 300,000 for a fourth consecutive week.
| Category | Jul 26 | Jul 19 | Jul 12 | Jul 5 | Jun 28 |
| --- | --- | --- | --- | --- | --- |
| Initial Claims | 302K | 279K | 303K | 305K | 316K |
| 4-Wk Moving Avg | 297K | 301K | 309K | 312K | 315K |
| Continued Benefits | | 2539K | 2508K | 2508K | 2586K |
| 4-Wk Moving Avg | | 2535K | 2544K | 2559K | 2572K |