Economic
Last Update: 22-Jan-15 08:47 ET
Initial Claims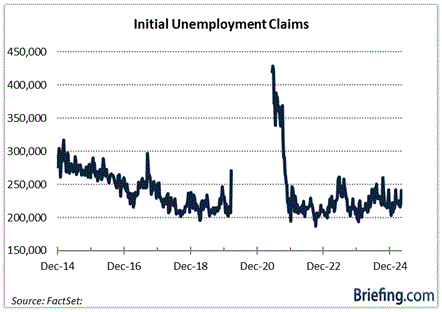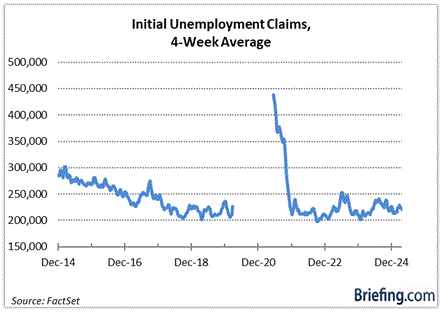 Highlights
The initial claims level declined to 307,000 for the week ending January 17 from an upwardly revised 317,000 (from 316,000) for the week ending January 10. The Briefing.com Consensus expected the initial claims level to decline to 302,000.
The continuing claims level increased to 2.443 mln for the week ending January 10 from an upwardly revised 2.428 mln (from 2.424 mln) for the week ending January 3. The consensus expected the continuing claims level to fall to 2.400 mln.
Key Factors
This was the first time since July 2014 that the initial claims level exceeded 300,000 for three consecutive weeks.
As with last week, the DOL reported that there were no special factors impacting the initial claims level.
There have been anecdotal reports that low oil prices have caused increased layoff activities in the energy sector, which may be the cause of the recent increase in claims. So far, however, the data do not support that theory. While energy-heavy states like Texas (12,312) and North Dakota (1,066) reported layoffs in excess of 1,000 for the week ending January 10, the state supplied comments do not blame increased layoffs in drilling or other energy-supported activities.
Big Picture
Despite the recent increase in the initial claims, the current level still supports payroll growth above 200,000.
| Category | Jan 17 | Jan 10 | Jan 3 | Dec 27 | Dec 20 |
| --- | --- | --- | --- | --- | --- |
| Initial Claims | 307K | 317K | 304K | 298K | 281K |
| 4-Wk Moving Avg | 307K | 300K | 293K | 291K | 291K |
| Continued Benefits | | 2443K | 2428K | 2485K | 2352K |
| 4-Wk Moving Avg | | 2427K | 2418K | 2406K | 2414K |