Economic
Last Update: 28-Aug-14 09:05 ET
Initial Claims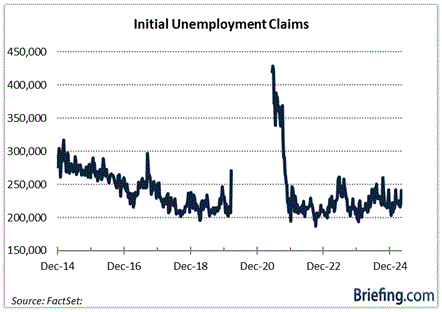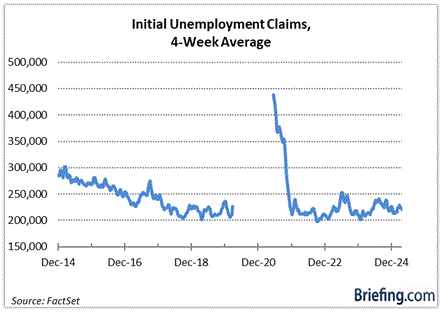 Highlights
The initial claims level fell to 298,000 for the week ending August 23 from an upwardly revised 299,000 (from 298,000) for the week ending August 16. The Briefing.com consensus pegged the initial claims level at 302,000.
The continuing claims level increased to 2.527 mln for the week ending August 16 from an upwardly revised 2.502 mln (from 2.500 mln) for the week ending August 9. The consensus expected the continuing claims level to increase to 2.520 mln.
Key Factors
We are having a very difficult time understanding what the initial claims level tells us about labor market conditions.
Over the past several weeks, the initial claims level has dropped from a range of 310,000 – 320,000 to below 300,000. When claims are below 300,000, the economy is usually running at, or very near, full employment.
During this time, the DOL has consistently stated that no special factors have biased the claims data. However, the industrial production numbers suggested the claims data were highly influenced by unseasonable increases in motor vehicle production.
Using the motor vehicle data, we anticipated that seasonal biases were a contributor to the lower claims level and thought the level should return to 310,000 – 320,000 by the middle of August.
Now that we are at the middle of August and claims have not returned to their previous trends, the data suggest that labor market conditions have materially improved. We still question this conjecture, but there is no clear potential seasonal bias that could be causing the decline.
Big Picture
The initial claims level implies an economy at, or near, full employment.
| Category | Aug 23 | Aug 16 | Aug 9 | Aug 2 | Jul 26 |
| --- | --- | --- | --- | --- | --- |
| Initial Claims | 298K | 299K | 312K | 290K | 303K |
| 4-Wk Moving Avg | 300K | 301K | 296K | 294K | 298K |
| Continued Benefits | | 2527K | 2502K | 2549K | 2519K |
| 4-Wk Moving Avg | | 2524K | 2528K | 2530K | 2519K |