Economic
Last Update: 17-May-13 11:09 ET
Durable Orders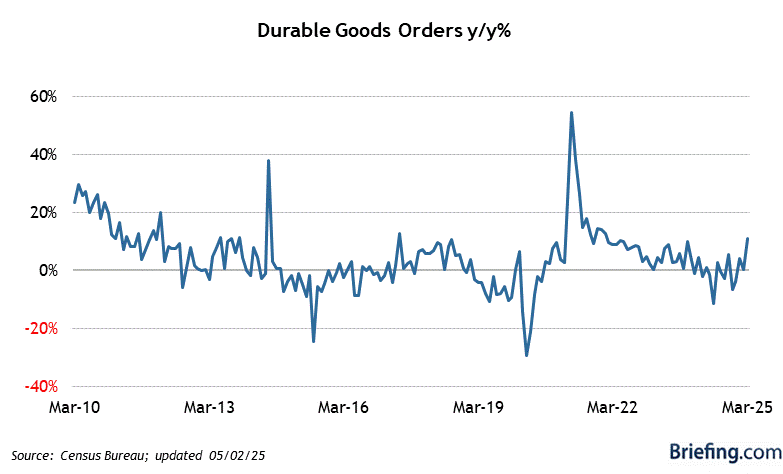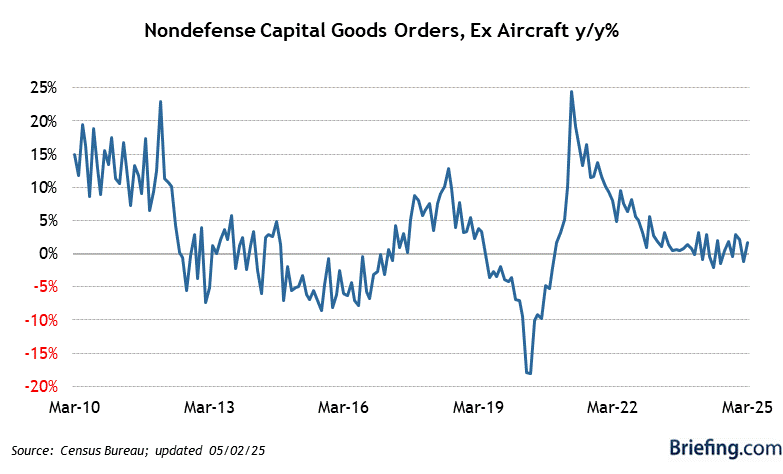 Highlights
Durable goods orders continued their streak of sizable up-and-down movements in March. Orders fell 5.7% after increasing a downwardly revised 4.3% (from 5.6%) in February. The Briefing.com consensus expected orders to fall 3.1%.
Excluding transportation, orders fell 1.4% after dropping a downwardly revised 1.7% (from -0.7%) in February. The consensus expected these orders to remain flat.
Key Factors
The wild swings in orders over the last few months have been the result of big moves in aircraft orders. In March, total aircraft orders -- defense and nondefense -- fell 43.5% after increasing 65.0% in February.
The drop in durable goods orders excluding transportation should not have been too surprising. Most of the regional manufacturing surveys showed a marked deceleration in orders growth last month.
Large declines were reported in primary and fabricated metals (-3.0% and -1.5%) and machinery (-1.4%).
Surprisingly, business capital demand remained positive even though orders from just about every durable sector contracted in March. Orders of nondefense capital goods excluding aircraft increased 0.2% in March after falling 4.8% in February.
Shipments of nondefense capital goods excluding aircraft were up 0.3% after increasing 1.2% in February. That gain will contribute positively to first quarter GDP growth. Future shipments growth, however, may be in doubt unless orders strengthen from their current level as the number of unfilled orders declined 0.2% for a second consecutive month.
Big Picture
Two consecutive months of declining unfilled orders of capital goods excluding aircraft will put downward pressure on future shipments growth.
| Category | MAR | FEB | JAN | DEC | NOV |
| --- | --- | --- | --- | --- | --- |
| Total Durable Orders | -6.9% | 6.4% | -6.1% | 5.1% | 0.6% |
| Less Defense | -5.6% | 5.4% | -0.6% | 0.6% | 0.5% |
| Less Transport | -2.9% | -0.2% | 2.7% | 0.3% | 1.2% |
| Transportation | -15.4% | 23.7% | -23.4% | 16.1% | -0.7% |
| Capital Goods | -13.7% | 12.3% | -14.3% | 16.2% | -1.7% |
| Nondefense | -11.0% | 9.2% | 0.0% | 2.4% | -2.2% |
| Nondefense/nonaircraft (core cap gds) | -0.6% | -4.8% | 8.9% | -1.9% | 3.3% |
| Defense Cap Goods | -33.6% | 49.1% | -68.0% | 134.7% | 2.8% |