Economic
Last Update: 08-Jul-15 19:09 ET
Nonfarm Payrolls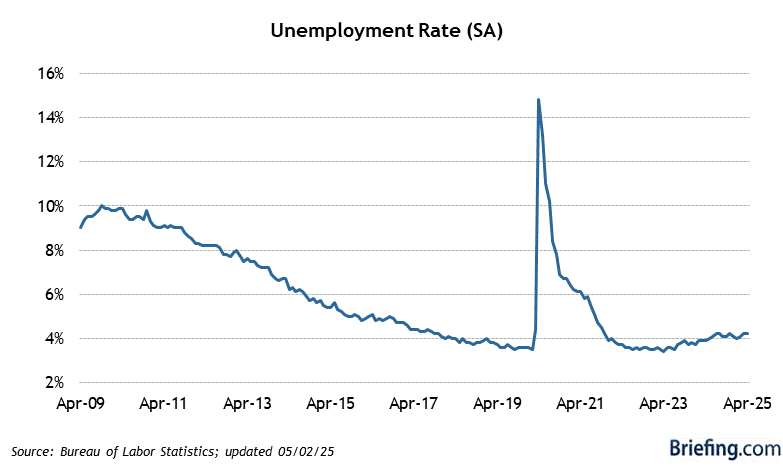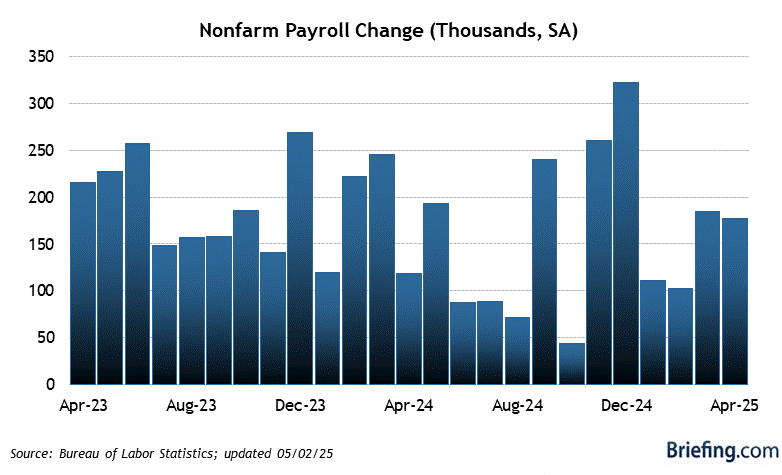 Highlights
Nonfarm payrolls added 223,000 jobs in June after adding adding a downwardly revised 254,000 (from 280,000) in May. The Briefing.com Consensus expected nonfarm payrolls to increase by 230,000 jobs.
Government payrolls were flat, and the entire increase in payrolls came from the private sector. Private payrolls increased by 223,000 after adding a downwardly revised 250,000 (from 262,000) in May. The consensus expected private payrolls to increased by 225,000.
The unemployment rate fell to 5.3% in June from 5.5% in May. The consensus expected the unemployment rate to decline to 5.4%.
Key Factors
While the payroll data nearly matched expectations, the details of the employment report highlight extreme weaknesses.
Both the average workweek and hourly earnings were flat in June. Total aggregate earnings increased a minuscule 0.2% in June, down from a 0.5% gain in May. Any sizable gain in consumption will have to come from consumers dipping into their savings.
There simply was not enough income growth to sustain May spending trends.Income growth was also not strong enough to support any type of acceleration in core inflation.
Unfortunately, the entire decrease in the unemployment rate was due to the statistical calculations and not employment growth.
Unemployed workers exited the labor force in droves in June, which dropped the labor force participation rate from 62.9% in May to 62.6% in June. That was the lowest labor force participation rate since October 1977, when women did not make up nearly the same percentage of the workforce as they do today.
If the labor force participation rate remained at May levels, the unemployment rate in June would have increased by 0.1 percentage points to 5.6%.
Big Picture
Despite the initial claims level trending near 15-year lows, there is still considerable amount of slack in the labor market. That explains both the poor wage data and the weak labor force participation rate.
| Category | JUN | MAY | APR | MAR | FEB |
| --- | --- | --- | --- | --- | --- |
| Establishment Survey | | | | | |
| Nonfarm Payrolls | 223K | 254K | 187K | 119K | 266K |
| Goods-Producing | 1K | 4K | 16K | -20K | 20K |
| Construction | 0K | 15K | 30K | -12K | 31K |
| Manufacturing | 4K | 7K | 0K | 6K | 3K |
| Service-Providing | 222K | 246K | 185K | 137K | 241K |
| Retail Trade | 33K | 26K | 11K | 32K | 23K |
| Financial | 20K | 10K | 7K | 13K | 9K |
| Business | 64K | 74K | 66K | 39K | 49K |
| Temporary help | 20K | 17K | 11K | 16K | -4K |
| Education/Health | 50K | 56K | 54K | 42K | 61K |
| Leisure/Hospitality | 22K | 54K | 8K | 6K | 61K |
| Government | 0K | 4K | -2K | 2K | 5K |
| Average Workweek | 34.5 | 34.5 | 34.5 | 34.5 | 34.6 |
| Production Workweek | 33.6 | 33.6 | 33.6 | 33.7 | 33.8 |
| Factory Overtime | 4.4 | 4.3 | 4.3 | 4.3 | 4.3 |
| Aggregate Hours Index | 0.2% | 0.2% | 0.1% | -0.2% | 0.3% |
| Avg Hourly Earnings | 0.0% | 0.2% | 0.1% | 0.3% | 0.1% |
| Household Survey | | | | | |
| Household Survey | | | | | |
| Civilian Unemp. Rate | 5.3% | 5.5% | 5.4% | 5.5% | 5.5% |
| Civilian Labor Force | -432K | 397K | 166K | -96K | -178K |
| Civilian Employed | -56K | 272K | 192K | 34K | 96K |
| Civilian Unemployed | -375K | 125K | -26K | -130K | -274K |