Economic
Last Update: 01-Aug-14 09:25 ET
Nonfarm Payrolls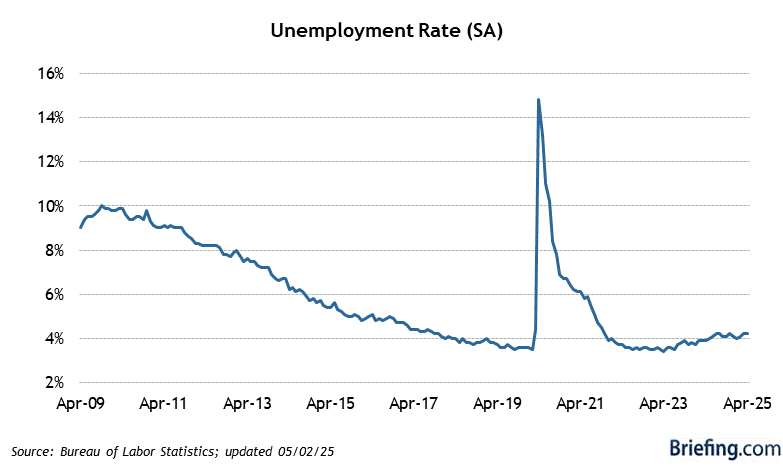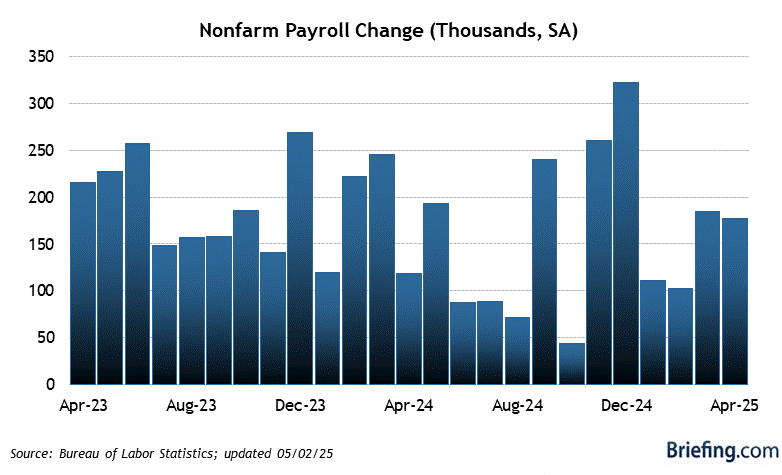 Highlights
Nonfarm payrolls added 209,000 jobs in July after adding an upwardly revised 298,000 (from 288,000) in June. The Briefing.com consensus expected 220,000 new jobs in July.
Private payrolls fared worse, adding only 198,000 jobs in July following a 270,000 increase in June. The consensus expected 225,000 new private jobs in July.
The unemployment rate ticked up to 6.2% in July from 6.1% in June. The consensus expected the unemployment rate to remain at 6.1%.
Key Factors
Over the past four weeks, the initial claims level dropped to approximately 300,000. That level suggests payroll growth should be in the neighborhood of 300,000 new jobs per month. Obviously, that is not the case.
The key takeaway is that the labor market is nowhere near as strong as the claims data suggest, and the economy is still muddling through a relatively stagnant employment cycle.
It is possible that the claims data have been biased from the motor vehicle industry. Normal plant shutdowns for retooling were possibly delayed or prevented so the manufacturers can keep production up to meet elevated demand.
If this scenario is true, then an unbiased claims level would be closer to 310,000 – 320,000, which would imply payroll growth around 225,000 per month.
Actual payrolls came in below this forecast but it was within normal volatility and tolerances.
Even more disappointing, hourly wages were flat after increasing 0.2% in June and the average workweek remained at 34.5 hours.
Altogether, aggregate earnings increased a very modest 0.2% in July after rising by 0.5% in June. The lack of strong wage growth will put downward pressure on consumption gains.
Sector-wise, the employment gains were relatively healthy. Goods producing jobs increased by 58,000, up from a 38,000 increase in June. Manufacturing added 28,000 new jobs following a 23,000 increase in June. The services sector added 140,000 new jobs, down from a 232,000 increase in June. Temporary help employment growth slowed, which signals a slight improvement in long-term job stability.
The labor force increased by 329,000, which suggests that some discouraged workers are again looking for employment.
The number of employed workers increased by 131,000. As opposed to June, most of the newly hired accepted full-time employment rather than part-time.
Big Picture
The shockingly low initial claims data over the past four weeks seem to be a result of biases and not an improvement in labor market conditions.
| Category | JUL | JUN | MAY | APR | MAR |
| --- | --- | --- | --- | --- | --- |
| Establishment Survey | | | | | |
| Nonfarm Payrolls | 209K | 298K | 229K | 304K | 203K |
| Goods-Producing | 58K | 38K | 26K | 50K | 21K |
| Construction | 22K | 10K | 9K | 36K | 13K |
| Manufacturing | 28K | 23K | 15K | 9K | 4K |
| Service-Providing | 140K | 232K | 202K | 228K | 179K |
| Retail Trade | 27K | 41K | 12K | 43K | 29K |
| Financial | 7K | 17K | 8K | 9K | 0K |
| Business | 47K | 73K | 57K | 72K | 47K |
| Temporary help | 9K | 14K | 15K | 15K | 22K |
| Education/Health | 17K | 45K | 59K | 32K | 40K |
| Leisure/Hospitality | 21K | 23K | 45K | 32K | 31K |
| Government | 11K | 28K | 1K | 26K | 3K |
| Average Workweek | 34.5 | 34.5 | 34.5 | 34.5 | 34.5 |
| Production Workweek | 33.7 | 33.7 | 33.7 | 33.7 | 33.7 |
| Factory Overtime | 4.4 | 4.5 | 4.6 | 4.4 | 4.5 |
| Aggregate Hours Index | 0.2% | 0.2% | 0.2% | 0.3% | 0.7% |
| Avg Hourly Earnings | 0.0% | 0.2% | 0.2% | 0.0% | 0.1% |
| Household Survey | | | | | |
| Household Survey | | | | | |
| Civilian Unemp. Rate | 6.2% | 6.1% | 6.3% | 6.3% | 6.7% |
| Civilian Labor Force | 329K | 81K | 192K | -806K | 503K |
| Civilian Employed | 131K | 407K | 145K | -73K | 476K |
| Civilian Unemployed | 197K | -325K | 46K | -733K | 27K |