Economic
Last Update: 21-May-15 17:41 ET
Nonfarm Payrolls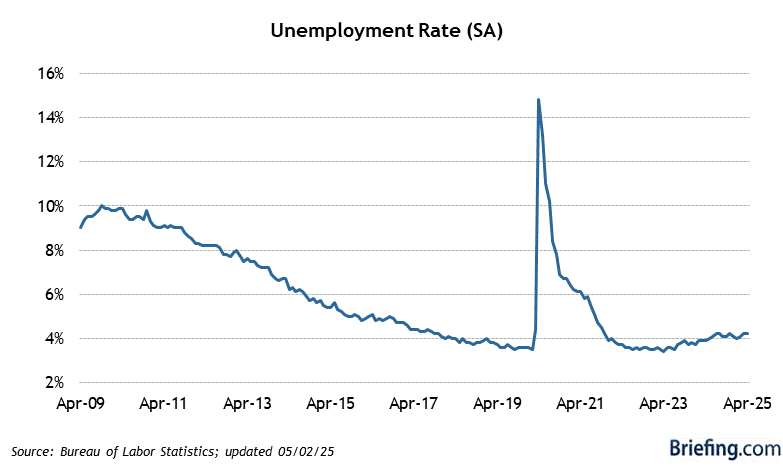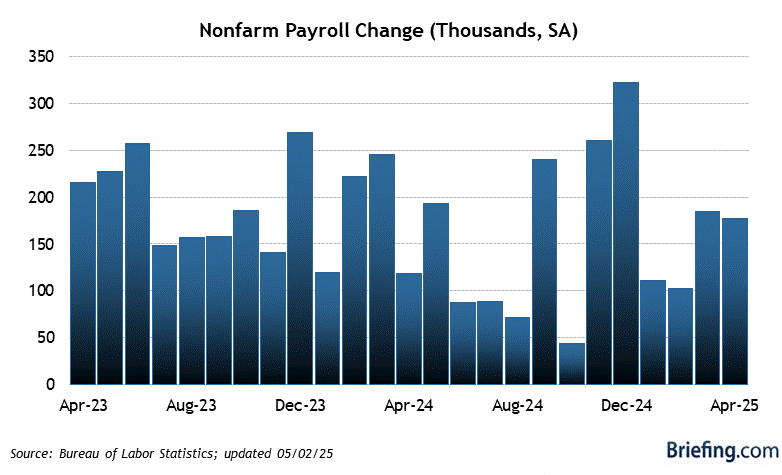 Highlights
Nonfarm payrolls added 223,000 new jobs in April, up from a downwardly revised 85,000 (from 126,000) in March. The Briefing.com Consensus expected nonfarm payrolls to increase by 218,000.
Private payrolls increased by 213,000 jobs in April after adding a downwardly revised 94,000 (from 129,000) in March. The consensus expected private payrolls to increase by 215,000.
The average hourly wage increased 0.1% in April after increasing a downwardly revised 0.2% in March. The average workweek remained at 34.5 hours for a second consecutive month.
The unemployment rate fell to 5.4% in April from 5.5% in March. That met consensus expectations.
Key Factors
Heading into this report, the focus was to see if the labor market improved enough to justify a rate hike occurring closer to July than December. In our opinion, this report did nothing to change the conditions that still warrant very easy monetary policy.
All in all, the employment data were pretty consistent with expectations. Yet, those expectations really weren't anything that special, especially after considering the weakness that came in March.
The reality is that labor market conditions have materially improved, and the claims data suggest that jobs are at their most secure point in 15 years. Businesses, however, have little desire to add to their current workforce and are content to keep production levels stable.
The combination of the increase in payrolls and wages along with constant hours pushed aggregate earnings levels up 0.3% in April. Earnings were flat in March.
With core CPI growing at a stable 0.2%, the aggregate gains in income barely exceed inflation growth. Without a dip in the elevated savings rate, real spending growth is likely to remain weak.
What's more is that the increase in aggregate earnings was not strong enough to push businesses to raise prices beyond their current trend. An acceleration in inflation, which could force the Fed to pull the trigger on a rate hike earlier than they necessarily want, does not seem to be in the cards.
The decline in the unemployment rate was a result of stronger employment growth as opposed to a drop in the labor force participation rate. That is a good sign for the economy.
Big Picture
Despite the rise in payrolls and the tick down in the unemployment rate, the lack of strong income growth will likely keep Fed policy firmly planted.
| Category | APR | MAR | FEB | JAN | DEC |
| --- | --- | --- | --- | --- | --- |
| Establishment Survey | | | | | |
| Nonfarm Payrolls | 223K | 85K | 266K | 201K | 329K |
| Goods-Producing | 31K | -21K | 20K | 51K | 64K |
| Construction | 45K | -9K | 31K | 41K | 44K |
| Manufacturing | 1K | 0K | 3K | 17K | 19K |
| Service-Providing | 182K | 115K | 241K | 151K | 255K |
| Retail Trade | 12K | 25K | 23K | 35K | 0K |
| Financial | 9K | 7K | 9K | 19K | 7K |
| Business | 62K | 35K | 49K | 20K | 72K |
| Temporary help | 16K | 13K | -4K | -8K | 21K |
| Education/Health | 61K | 35K | 61K | 42K | 54K |
| Leisure/Hospitality | 17K | -6K | 61K | 24K | 56K |
| Government | 10K | -9K | 5K | -1K | 10K |
| Average Workweek | 34.5 | 34.5 | 34.6 | 34.6 | 34.6 |
| Production Workweek | 33.7 | 33.7 | 33.8 | 33.7 | 33.8 |
| Factory Overtime | 4.3 | 4.3 | 4.3 | 4.4 | 4.6 |
| Aggregate Hours Index | 0.2% | -0.3% | 0.3% | 0.1% | 0.3% |
| Avg Hourly Earnings | 0.1% | 0.2% | 0.1% | 0.6% | -0.2% |
| Household Survey | | | | | |
| Household Survey | | | | | |
| Civilian Unemp. Rate | 5.4% | 5.5% | 5.5% | 5.7% | 5.6% |
| Civilian Labor Force | 166K | -96K | -178K | 1051K | -273K |
| Civilian Employed | 192K | 34K | 96K | 759K | 111K |
| Civilian Unemployed | -26K | -130K | -274K | 291K | -383K |