Economic
Last Update: 07-Mar-14 09:17 ET
Nonfarm Payrolls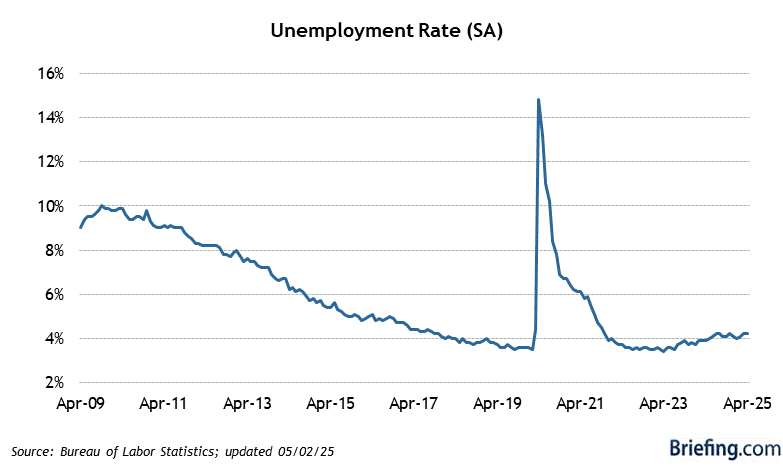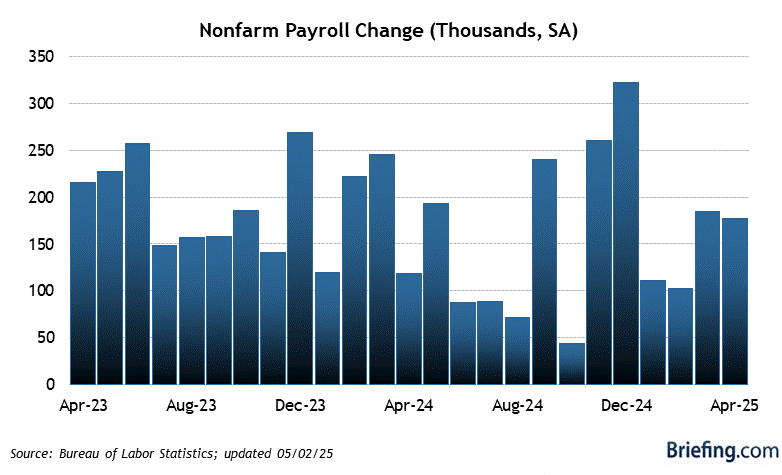 Highlights
Nonfarm payrolls added 175,000 jobs in February after adding an upwardly revised 129,000 (from 113,000) in January. The Briefing.com consensus expected nonfarm payrolls to increase by 163,000.
Private payrolls were a little lighter, up 162,000 in February after adding 145,000 in January. The consensus expected private payrolls to increase by 170,000.
The unemployment rate increased to 6.7% in February from 6.6% in January. The consensus expected the unemployment rate to remain at 6.6%.
Key Factors
Over the last several weeks, economists have pointed toward the winter weather as the reason for the recent economic slowdown. The above consensus result in the February employment report refutes that theory.
Sectors that are normally impacted by weather events, such as construction of buildings (+100), reported positive payroll gains. These sectors should have seen a sizable pullback if weather was the root cause of the economic malaise.
In reality, the overall February payroll increase was in-line with what was expected given the current range-bound initial claims level. With initial claims at 330,000 – 340,000, payrolls should increase in the neighborhood of 185,000.
That is not to say that the employment report was impressive or strong.
Average hourly earnings increased a healthy 0.4% in February after increasing 0.2% in January.The average workweek fell from a downwardly revised 34.3 (from 34.4) in January to 34.2 in February. It is unknown if the drop was the result of companies reducing hours in response to the Affordable Care Act, weaker demand, or the fact that workers could not work at their normal capacity because of weather conditions.
The decline in the workweek offset much of the increase in average hourly earnings and the payroll gain. As a result, aggregate earnings were only up 0.2%. That is still enough to support consumption growth, but not enough to see a big acceleration in demand.
The increase in the unemployment rate was caused by a sizable increase in the labor force. While the participation rate remained the same (63.0%) as January, the number of people in the labor force increased by 264,000. Of those, only 42,000 found jobs in February.
We expected that the end of the emergency unemployment benefits in January would cause an exodus in the labor force participation. So far, that has not happened.
Big Picture
Extreme winter weather in February failed to hobble employment growth.
| Category | FEB | JAN | DEC | NOV | OCT |
| --- | --- | --- | --- | --- | --- |
| Establishment Survey | | | | | |
| Nonfarm Payrolls | 175K | 129K | 84K | 274K | 237K |
| Goods-Producing | 22K | 61K | -13K | 68K | 38K |
| Construction | 15K | 50K | -20K | 32K | 15K |
| Manufacturing | 6K | 6K | 7K | 35K | 18K |
| Service-Providing | 140K | 84K | 99K | 204K | 209K |
| Retail Trade | -4K | -23K | 52K | 22K | 42K |
| Financial | 9K | -2K | 2K | -4K | 7K |
| Business | 79K | 42K | 16K | 73K | 53K |
| Temporary help | 24K | 2K | 32K | 37K | 4K |
| Education/Health | 33K | 10K | 5K | 25K | 31K |
| Leisure/Hospitality | 25K | 22K | 18K | 37K | 65K |
| Government | 13K | -16K | -2K | 2K | -10K |
| Average Workweek | 34.2 | 34.3 | 34.3 | 34.5 | 34.4 |
| Production Workweek | 33.3 | 33.5 | 33.5 | 33.7 | 33.6 |
| Factory Overtime | 4.2 | 4.3 | 4.5 | 4.5 | 4.4 |
| Aggregate Hours Index | -0.2% | 0.1% | -0.5% | 0.5% | 0.0% |
| Avg Hourly Earnings | 0.4% | 0.2% | 0.1% | 0.2% | 0.1% |
| Household Survey | | | | | |
| Household Survey | | | | | |
| Civilian Unemp. Rate | 6.7% | 6.6% | 6.7% | 7.0% | 7.2% |
| Civilian Labor Force | 264K | 523K | -347K | 659K | -934K |
| Civilian Employed | 42K | 638K | 143K | 958K | -818K |
| Civilian Unemployed | 223K | -115K | -490K | -299K | -115K |