Economic
Last Update: 09-Jan-15 10:21 ET
Nonfarm Payrolls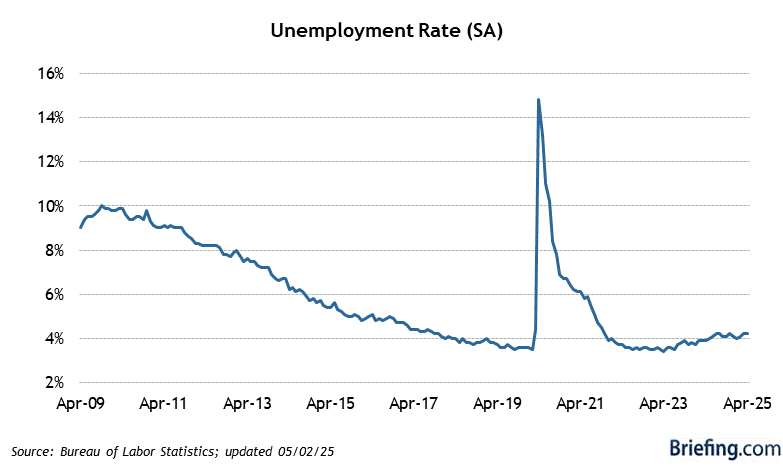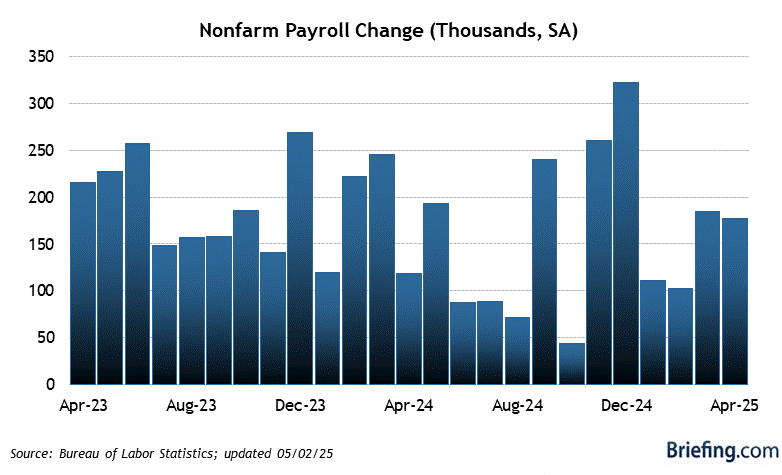 Highlights
Nonfarm payrolls increased by 252,000 in December after adding an upwardly revised 353,000 (from 321,000) in November. The Briefing.com Consensus expected nonfarm payrolls to increase by 245,000.
The unemployment rate fell to 5.6% in December from 5.8% in November. The consensus expected the unemployment rate to fall to 5.7%.
Key Factors
At first blush, the employment report seemingly looks positive. Payrolls exceeded expectations and upward revisions to previous months showcase a strengthening labor market. Yet, those numbers are actually masking what we would determine as a decidedly weak report.
The key is wage growth. With strong payroll growth and a downward-moving unemployment rate, the labor market would seem to be gather strength. But the average hourly wages in December actually contracted, falling 0.2% after increasing a downwardly revised 0.2% (from 0.4%) in November.
For all of those increases in payrolls, the decrease in wages resulted in no change in aggregate income in December.
Unfortunately, without aggregate income gains, consumption growth cannot accelerate, inflation trends will remain subpar, and the overall economy cannot improve.
Furthermore, the unemployment rate - which the headline decline suggests was another improvement in labor market conditions – was mostly caused by a large decline in the labor force. If the participation rate remained at November levels, the unemployment rate would have been virtually unchanged at 5.8%.
Big Picture
Lackluster income trends will cap potential consumption growth and keep the overall economy from significantly improving.
| Category | DEC | NOV | OCT | SEP | AUG |
| --- | --- | --- | --- | --- | --- |
| Establishment Survey | | | | | |
| Nonfarm Payrolls | 252K | 353K | 261K | 271K | 203K |
| Goods-Producing | 67K | 51K | 42K | 36K | 22K |
| Construction | 48K | 20K | 16K | 18K | 17K |
| Manufacturing | 17K | 29K | 24K | 12K | 3K |
| Service-Providing | 173K | 294K | 213K | 213K | 178K |
| Retail Trade | 7.7K | 55.7K | 32.6K | 40K | -4K |
| Financial | 10K | 21K | 4K | 14K | 12K |
| Business | 52K | 87K | 51K | 66K | 49K |
| Temporary help | 14.7K | 23.9K | 18.8K | 23K | 26K |
| Education/Health | 48K | 41K | 44K | 35K | 50K |
| Leisure/Hospitality | 36K | 53K | 60K | 47K | 26K |
| Government | 12K | 8K | 6K | 22K | 3K |
| Average Workweek | 34.6 | 34.6 | 34.5 | 34.5 | 34.5 |
| Production Workweek | 33.9 | 33.8 | 33.8 | 33.7 | 33.8 |
| Factory Overtime | 4.6 | 4.6 | 4.4 | 4.5 | 4.4 |
| Aggregate Hours Index | 0.2% | 0.6% | 0.2% | 0.2% | 0.2% |
| Avg Hourly Earnings | -0.2% | 0.2% | 0.1% | 0.0% | 0.3% |
| Household Survey | | | | | |
| Household Survey | | | | | |
| Civilian Unemp. Rate | 5.6% | 5.8% | 5.8% | 5.9% | 6.1% |
| Civilian Labor Force | -273K | 119K | 416K | -97K | -64K |
| Civilian Employed | 111K | 4K | 683K | 232K | 16K |
| Civilian Unemployed | -383K | 115K | -267K | -329K | -80K |