Economic
Last Update: 10-Oct-14 16:58 ET
Nonfarm Payrolls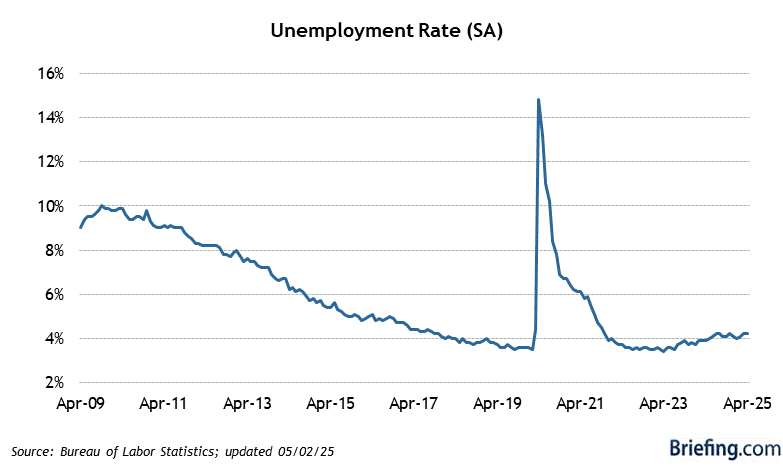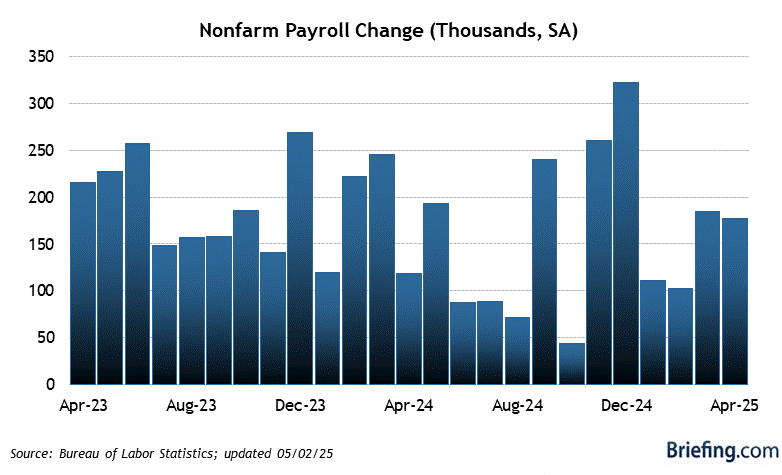 Highlights
Nonfarm payrolls added 248,000 jobs in September following an upwardly revised 180,000 (from 142,000) job gain in August. The Briefing.com consensus expected nonfarm payrolls to increase by 210,000.
Stripping out government jobs, private payrolls added 236,000 jobs in September after adding an upwardly revised 175,000 (from 134,000) in August. That gain topped both the consensus forecast of 205,000 new jobs and the September ADP report, which expected a gain of 202,000.
The unemployment rate fell to 5.9% from 6.1%, which easily beat consensus expectations of 6.1%.
Key Factors
The establishment portion of the employment data showed solid improvements in September.
The hourly workweek ticked up to 34.6 hours from 34.5 hours and hourly earnings growth was flat. Overall aggregate earnings increased 0.5%, which is strong enough to drive an acceleration in consumption growth.
These gains are in-line with the improvements in the initial claims level, which recently found a new stabilization level below 300,000.
The household survey added some confusion over the strength of the improvements.
If the economy was moving toward full employment, then discouraged workers should return to the labor force and drive the participation rate higher. That did not happen in September.
While the unemployment rate fell to 5.9% from 6.1%, much of the gain came from the 97,000 person decline in the labor force. If the participation rate remained at August levels, the unemployment rate would have remained at 6.1%.
Big Picture
Payrolls rebounded nicely in September, the drop in the labor force participation rate adds to the confusion about the strength of the employment sector.
| Category | SEP | AUG | JUL | JUN | MAY |
| --- | --- | --- | --- | --- | --- |
| Establishment Survey | | | | | |
| Nonfarm Payrolls | 248K | 180K | 243K | 267K | 229K |
| Goods-Producing | 29K | 14K | 63K | 34K | 26K |
| Construction | 16K | 16K | 30K | 8K | 9K |
| Manufacturing | 4K | -4K | 24K | 21K | 15K |
| Service-Providing | 207K | 161K | 176K | 226K | 202K |
| Retail Trade | 35K | -5K | 25K | 35K | 12K |
| Financial | 12K | 12K | 15K | 19K | 8K |
| Business | 81K | 63K | 50K | 70K | 57K |
| Temporary help | 20K | 25K | 16K | 15K | 15K |
| Education/Health | 32K | 42K | 37K | 48K | 59K |
| Leisure/Hospitality | 33K | 20K | 10K | 21K | 45K |
| Government | 12K | 5K | 4K | 7K | 1K |
| Average Workweek | 34.6 | 34.5 | 34.5 | 34.5 | 34.5 |
| Production Workweek | 33.7 | 33.7 | 33.7 | 33.7 | 33.7 |
| Factory Overtime | 4.5 | 4.4 | 4.4 | 4.5 | 4.6 |
| Aggregate Hours Index | 0.5% | 0.2% | 0.2% | 0.2% | 0.2% |
| Avg Hourly Earnings | 0.0% | 0.3% | 0.0% | 0.2% | 0.2% |
| Household Survey | | | | | |
| Household Survey | | | | | |
| Civilian Unemp. Rate | 5.9% | 6.1 | 6.2% | 6.1% | 6.3% |
| Civilian Labor Force | -97K | -64K | 329K | 81K | 192K |
| Civilian Employed | 232K | 16K | 131K | 407K | 145K |
| Civilian Unemployed | -329K | -80K | 197K | -325K | 46K |