Economic
Last Update: 05-Sep-14 09:14 ET
Nonfarm Payrolls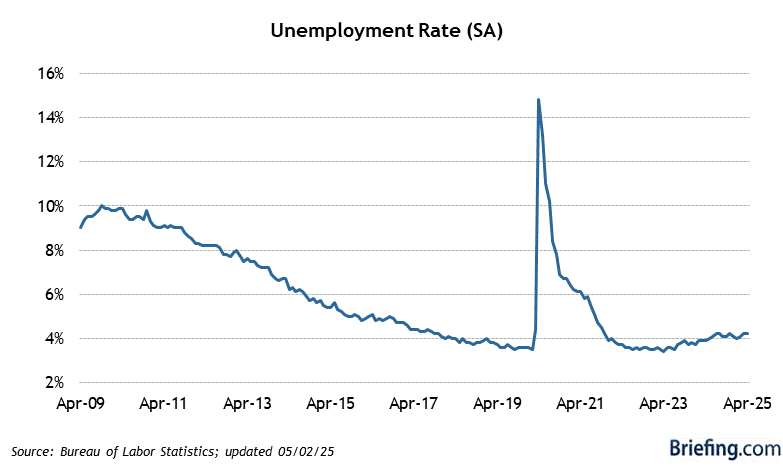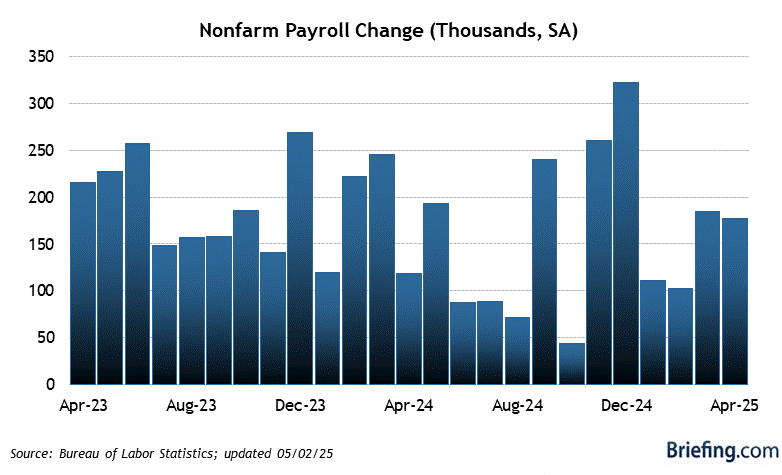 Highlights
Nonfarm payrolls added 142,000 new jobs in August after adding an upwardly revised 212,000 (from 209,000) in July. The Briefing.com consensus expected nonfarm payrolls to increase to 223,000.
Private payrolls added 134,000 jobs in August, down from a 213,000 gain in July.
The unemployment rate ticked down to 6.1% in August from 6.2% in July.
Key Factors
This was the first time since January that payrolls didn't add at least 200,000 jobs in a month and was the smallest increase since December 2013.
Over the last several weeks, the initial claims level dropped below 300,000. These levels normally imply monthly payroll gains of about 300,000. With actual job growth less than half of the implied initial claims forecast, it would seem that the claims data are biased from seasonal adjustment or some other unknown shock.
The disappointment in the topline payroll number, however, does not mean that economic growth is slipping. Average weekly hours remained firm at 34.5 hours, but average hourly earnings increased 0.2% in August after no growth in July.
Taken altogether, the gains in earnings and payrolls resulted in a solid 0.4% increase in aggregate earnings. That should be enough to return consumption growth to a positive path after July's unexpected decline.
Sector wise, goods-producing jobs increased by 22,000 down from a 67,000 gain in July. Even though the ISM report showed booming manufacturing demand, the manufacturing sector added zero jobs in August.
Service-providing employment increased by 112,000 in August after adding 146,000 in July. Retail trade lost 8,400 jobs in August.
The decline in the unemployment rate was mostly the result of a small drop in labor force participation and not from an improvement in employment.
Big Picture
Weak nonfarm payroll growth does not bode well for an acceleration in GDP.
| Category | AUG | JUL | JUN | MAY | APR |
| --- | --- | --- | --- | --- | --- |
| Establishment Survey | | | | | |
| Nonfarm Payrolls | 142K | 212K | 267K | 229K | 304K |
| Goods-Producing | 22K | 67K | 34K | 26K | 50K |
| Construction | 20K | 31K | 8K | 9K | 36K |
| Manufacturing | 0K | 28K | 21K | 15K | 9K |
| Service-Providing | 112K | 146K | 226K | 202K | 228K |
| Retail Trade | -8K | 21K | 35K | 12K | 43K |
| Financial | 7K | 10K | 19K | 8K | 9K |
| Business | 47K | 36K | 70K | 57K | 72K |
| Temporary help | 13K | 10K | 15K | 15K | 15K |
| Education/Health | 37K | 33K | 48K | 59K | 32K |
| Leisure/Hospitality | 15K | 12K | 21K | 45K | 32K |
| Government | 8K | -1K | 7K | 1K | 26K |
| Average Workweek | 34.5 | 34.5 | 34.5 | 34.5 | 34.5 |
| Production Workweek | 33.7 | 33.7 | 33.7 | 33.7 | 33.7 |
| Factory Overtime | 4.5 | 4.4 | 4.5 | 4.6 | 4.4 |
| Aggregate Hours Index | 0.1% | 0.2% | 0.2% | 0.2% | 0.3% |
| Avg Hourly Earnings | 0.2% | 0.0% | 0.2% | 0.2% | 0.0% |
| Household Survey | | | | | |
| Household Survey | | | | | |
| Civilian Unemp. Rate | 6.1 | 6.2% | 6.1% | 6.3% | 6.3% |
| Civilian Labor Force | -64K | 329K | 81K | 192K | -806K |
| Civilian Employed | 16K | 131K | 407K | 145K | -73K |
| Civilian Unemployed | -80K | 197K | -325K | 46K | -733K |