Economic
Last Update: 07-Nov-14 09:12 ET
Nonfarm Payrolls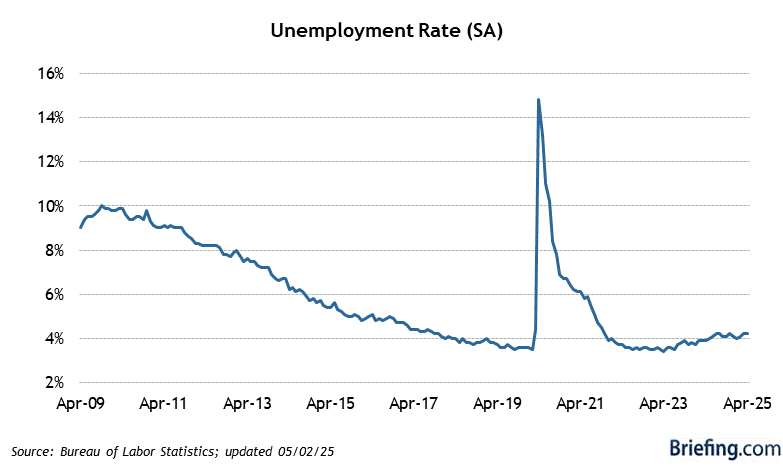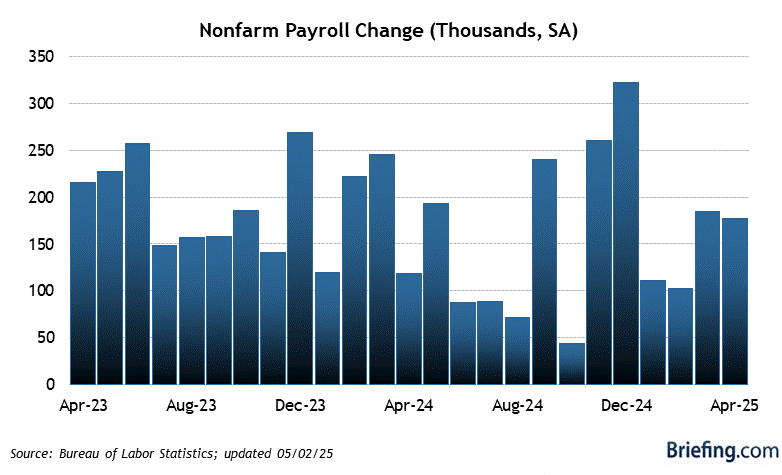 Highlights
Nonfarm payrolls added 214,000 jobs in October, down from an upwardly revised 256,000 (from 248,000) increase in September. The Briefing.com consensus expected nonfarm payrolls to increase by 235,000.
The unemployment rate fell to 5.8% in October from 5.9% in September. The consensus expected the unemployment rate to remain at 5.9%.
Key Factors
Payrolls exceeded 200,000 for the ninth consecutive month. Job gains have topped the 120,000 needed to keep the unemployment rate steady every month thus far in 2014. The employment sector is clearly improving and trends remain firm.
Average hourly earnings increased 0.1% in October after reporting no change in September. The average workweek ticked up to 34.6 hours after a downward revision to the September data brought the workweek down to 34.5 (from 34.6).
Overall, the combination of increased payrolls, stronger hourly earnings, and the longer workweek drove aggregate earnings up 0.6%. That gain is strong enough to support an acceleration in consumption growth.
Employment levels increased by 683,000 in October and the labor force rose by 416,000. The increase in both employment and labor force signal that the decrease in the unemployment rate was directly due to improving labor market conditions.
It is hard not to feel disappointed about the October employment report.
Over the past several weeks, the initial claims level has stabilized below 300,000 and layoff activities have been reported at their lowest level in 14 years. These are conditions that normally occur with an employment sector at, or near, full employment. If this is true, then payrolls may not grow much faster than 200,000 per month because there is simply not enough available unemployed workers to meet job growth demand.
However, since the labor force participation rate remains at historical lows, it would seem that there should still be significant slack in the labor market. There seems to be an ample number of unemployed workers that businesses can easily hire.
The lack of hiring growth suggests that businesses are not in an accelerated expansion mode. In effect, businesses are content producing at their current production rates.
Until businesses strive to increase production and grow, steady employment growth of around 200,000 will likely continue. That's good, but not good enough to return the employment/population ratio to pre-recession levels.
Big Picture
The employment data in October were good, but not good enough.
| Category | OCT | SEP | AUG | JUL | JUN |
| --- | --- | --- | --- | --- | --- |
| Establishment Survey | | | | | |
| Nonfarm Payrolls | 214K | 256K | 203K | 243K | 267K |
| Goods-Producing | 28K | 36K | 22K | 63K | 34K |
| Construction | 12K | 19K | 17K | 30K | 8K |
| Manufacturing | 15K | 9K | 3K | 24K | 21K |
| Service-Providing | 181K | 208K | 178K | 176K | 226K |
| Retail Trade | 27K | 34K | -4K | 25K | 35K |
| Financial | 3K | 12K | 12K | 15K | 19K |
| Business | 37K | 55K | 49K | 50K | 70K |
| Temporary help | 52K | 48K | 26K | 16K | 15K |
| Education/Health | 41K | 43K | 50K | 37K | 48K |
| Leisure/Hospitality | 52K | 48K | 26K | 10K | 21K |
| Government | 5K | 12K | 3K | 4K | 7K |
| Average Workweek | 34.6 | 34.5 | 34.5 | 34.5 | 34.5 |
| Production Workweek | 33.8 | 33.7 | 33.8 | 33.7 | 33.7 |
| Factory Overtime | 4.4 | 4.5 | 4.4 | 4.4 | 4.5 |
| Aggregate Hours Index | 0.5% | 0.2% | 0.2% | 0.2% | 0.2% |
| Avg Hourly Earnings | 0.1% | 0.0% | 0.3% | 0.0% | 0.2% |
| Household Survey | | | | | |
| Household Survey | | | | | |
| Civilian Unemp. Rate | 5.8% | 5.9% | 6.1% | 6.2% | 6.1% |
| Civilian Labor Force | 416K | -97K | -64K | 329K | 81K |
| Civilian Employed | 683K | 232K | 16K | 131K | 407K |
| Civilian Unemployed | -267K | -329K | -80K | 197K | -325K |