Economic
Last Update: 06-Mar-15 10:49 ET
Nonfarm Payrolls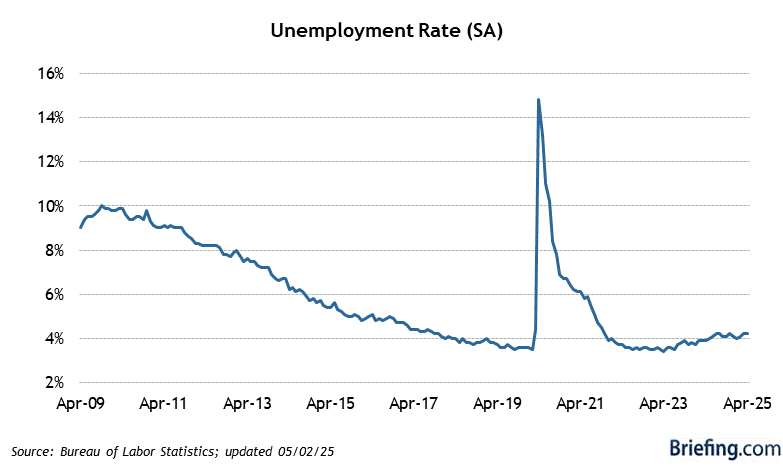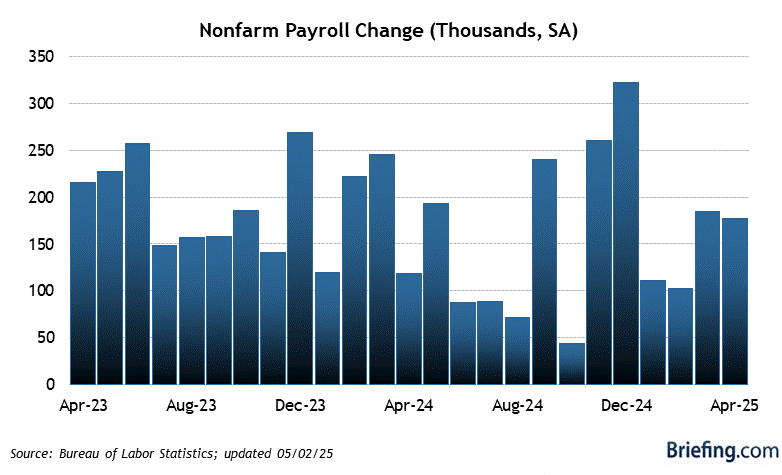 Highlights
Nonfarm payrolls added 295,000 jobs in February after adding a downwardly revised 239,000 (from 257,000) in January. The Briefing.com Consensus expected nonfarm payrolls to increase by 240,000 new jobs.
The unemployment rate fell to 5.5% in February from 5.7% in January. The consensus expected the unemployment rate to fall to 5.6%.
Key Factors
It is difficult to label this report as good. Headline payrolls topped expectation, which is obviously a good result. However, average hourly earnings increased marginally (0.1%) after growing by 0.5% in January.
Lackluster wage growth combined with the improvement in payrolls led to a 0.4% increase in aggregate wages. To put that in perspective, even after the downward revision to the January payroll numbers, aggregate income increased a much stronger 0.7% last month.
Since consumption growth, and economic growth in general, follow the trend in income, the February employment results were decidedly worse than January even though this month's headline payroll number far exceeded both expectations and the prior level.
That is not to say that the employment data should be labeled as bad. It's just not nearly as strong as the headline suggested.
The decline in the unemployment rate was completely due to another exodus in labor market participation. The participation rate dropped to 62.8% in February from 62.9% in January. If the labor force participation rate remained at January levels, the unemployment rate would have remained at 5.7%.
Big Picture
The February employment data was not bad, but not necessarily good either.
| Category | FEB | JAN | DEC | NOV | OCT |
| --- | --- | --- | --- | --- | --- |
| Establishment Survey | | | | | |
| Nonfarm Payrolls | 295K | 239K | 329K | 423K | 221K |
| Goods-Producing | 29K | 64K | 64K | 76K | 34K |
| Construction | 29K | 49K | 44K | 30K | 10K |
| Manufacturing | 8K | 21K | 19K | 45K | 23K |
| Service-Providing | 259K | 173K | 255K | 338K | 184K |
| Retail Trade | 32K | 28K | 0K | 61K | 26K |
| Financial | 10K | 22K | 7K | 28K | 7K |
| Business | 51K | 10K | 72K | 96K | 40K |
| Temporary help | -8K | -14K | 21K | 31K | 9K |
| Education/Health | 54K | 46K | 54K | 51K | 28K |
| Leisure/Hospitality | 66K | 39K | 56K | 42K | 55K |
| Government | 7K | 2K | 10K | 9K | 3K |
| Average Workweek | 34.6 | 34.6 | 34.6 | 34.6 | 34.6 |
| Production Workweek | 33.8 | 33.8 | 33.8 | 33.8 | 337 |
| Factory Overtime | 4.3 | 4.4 | 4.6 | 4.6 | 4.4 |
| Aggregate Hours Index | 0.2% | 0.2% | 0.3% | 0.4% | 0.5% |
| Avg Hourly Earnings | 0.1% | 0.5% | -0.2% | 0.4% | 0.2% |
| Household Survey | | | | | |
| Household Survey | | | | | |
| Civilian Unemp. Rate | 5.5% | 5.7% | 5.6% | 5.8% | 5.8% |
| Civilian Labor Force | -178K | 1051K | -273K | 119K | 416K |
| Civilian Employed | 96K | 759K | 111K | 4K | 683K |
| Civilian Unemployed | -274K | 291K | -383K | 115K | -267K |