Economic
Last Update: 04-Sep-15 09:04 ET
Nonfarm Payrolls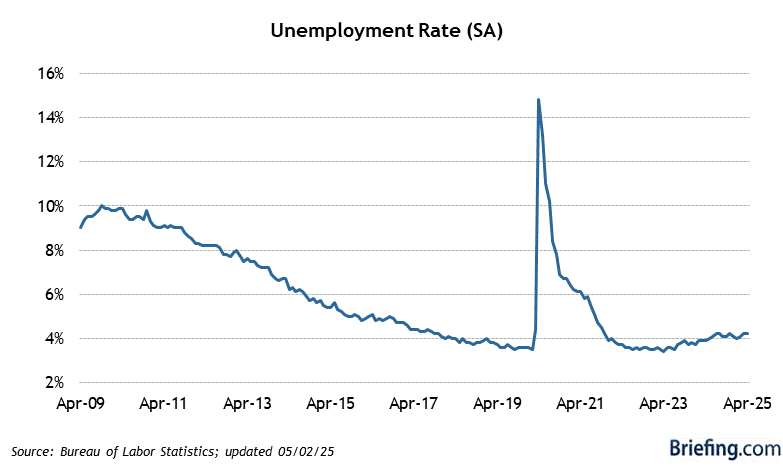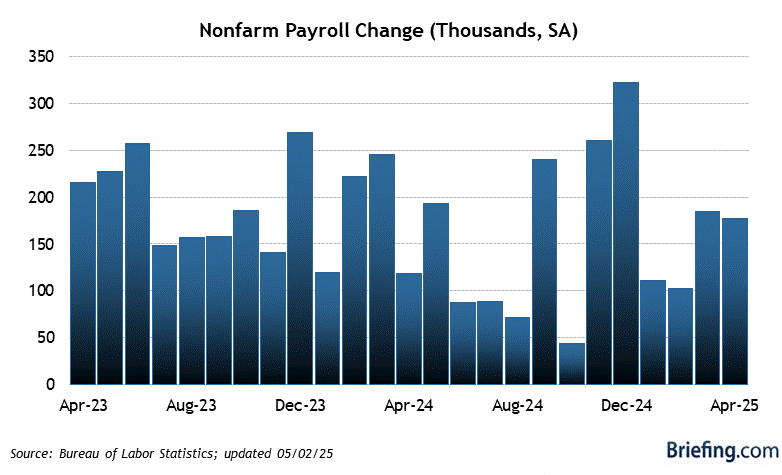 Highlights
Nonfarm payrolls added 173,000 new jobs in August after adding an upwardly revised 245,000 (from 215,000) in July. The Briefing.com Consensus expected nonfarm payrolls to increase by 217,000.
Private payrolls increased by 140,000 in August, down from an upwardly revised 224,000 (from 210,000) in July. The consensus expected private payrolls to increase by 210,000.
The unemployment rate fell to 5.1% in August from 5.3% in July. The consensus expected the unemployment rate to drop to 5.2%.
Key Factors
Headline payroll numbers failed to meet expectations. In fact, that was the slowest month for job growth since only 119,000 jobs were added in March.
The disappointment in the headlines, however, are easily tempered when looking at the strong upward revisions to June (245,000 from 231,000) and July.
More importantly, average hourly earnings accelerated, up 0.3% in August from a 0.2% gain in July. The average workweek also expanded to 34.6 hours from 34.5 hours.
In all, aggregate earnings increased a solid 0.7% in August, up from a 0.4% gain in July.
That is the number the Fed is going to focus on when it decides on whether or not to raise rates at the September meeting. A 0.7% gain implies a strong acceleration in consumption growth – possibly already indicated by the huge gain in August auto sales – and also begets higher inflation pressures.
Labor force participation was flat between August and July, which means the decrease in the unemployment rate was the result of job growth and not from discouraged workers.
At its current level, the unemployment rate is well below the CBO's estimate for full employment (roughly 5.5%). The output gap – in the labor sector – has gone away and inflation growth is expected to follow.
Big Picture
Another solid, yet unspectacular, jobs report puts the onus on the Fed to raise rates at the September meeting.
| Category | AUG | JUL | JUN | MAY | APR |
| --- | --- | --- | --- | --- | --- |
| Establishment Survey | | | | | |
| Nonfarm Payrolls | 173K | 245K | 245K | 260K | 187K |
| Goods-Producing | -24K | 13K | -3K | -2K | 16K |
| Construction | 3K | 7K | 1K | 12K | 30K |
| Manufacturing | -17K | 12K | 1K | 6K | 0K |
| Service-Providing | 164K | 211K | 221K | 254K | 173K |
| Retail Trade | 11K | 32K | 36K | 33K | 11K |
| Financial | 19K | 21K | 21K | 9K | 7K |
| Business | 33K | 39K | 68K | 68K | 66K |
| Temporary help | 11K | -9K | 20K | 9K | 11K |
| Education/Health | 62K | 53K | 61K | 57K | 54K |
| Leisure/Hospitality | 33K | 30K | 19K | 56K | 8K |
| Government | 33K | 21K | 27K | 8K | -2K |
| Average Workweek | 34.6 | 34.5 | 34.5 | 34.5 | 34.5 |
| Production Workweek | 33.7 | 33.7 | 33.7 | 33.6 | 33.6 |
| Factory Overtime | 4.3 | 4.3 | 4.4 | 4.3 | 4.3 |
| Aggregate Hours Index | 0.4% | 0.2% | 0.2% | 0.2% | 0.1% |
| Avg Hourly Earnings | 0.3% | 0.2% | 0.0% | 0.2% | 0.2% |
| Household Survey | | | | | |
| Household Survey | | | | | |
| Civilian Unemp. Rate | 5.1% | 5.3% | 5.3% | 5.5% | 5.4% |
| Civilian Labor Force | -41K | 69K | -432K | 397K | 166K |
| Civilian Employed | 196K | 101K | -56K | 272K | 192K |
| Civilian Unemployed | -237K | -33K | -375K | 125K | -26K |