Economic
Last Update: 05-Dec-14 09:21 ET
Nonfarm Payrolls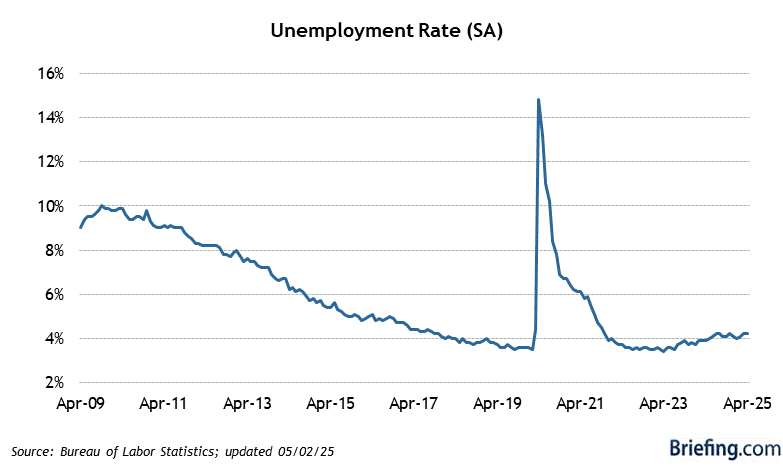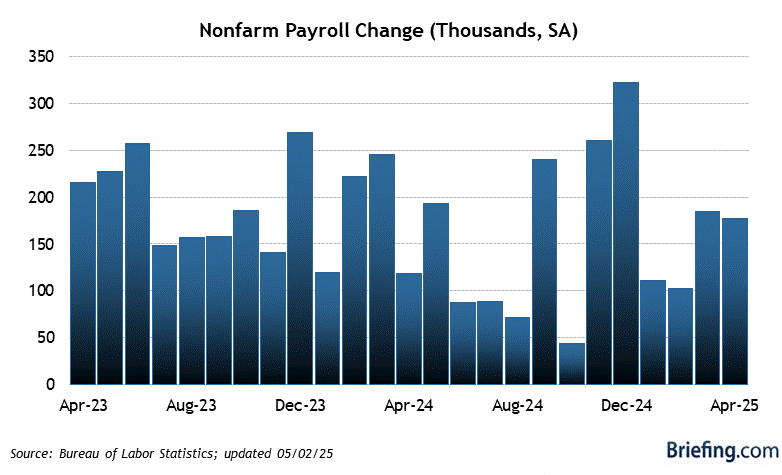 Highlights
Nonfarm payrolls increased by 321,000 in November, up from an upwardly revised 243,000 (from 214,000) in October. The Briefing.com consensus expected nonfarm payrolls to add 230,000 new jobs.
Private payrolls increased by 314,000 in November after adding an upwardly revised 236,000 (from 209,000) in October. The consensus expected 228,000 new private jobs.
The unemployment rate remained at 5.8% for a second consecutive month. That was exactly what the consensus expected.
Key Factors
That was the biggest increase in payrolls since 360,000 jobs were added in January 2012.
Over the past few months, initial claims fell to levels that are normally associated with full employment. During that time, however, payroll growth was moderate. The lack of strong jobs growth suggested that there wasn't much slack in the labor market.
Interestingly, the November jobs report provided evidence both for and against the slack argument.
Obviously, a three-handle jobs gain is impressive. That tells us that there was still a considerable amount of people unemployed who were looking for jobs.
Yet, those who already had jobs were able to demand a 0.4% increase in average hourly earnings. That tells us that the number of available qualified workers is diminishing, which is forcing employers to pay their workers more money to keep them at their current job.
What we may be seeing is that there is a disconnect between the top and bottom wage earners. The number of qualified top tier employees is shrinking but the number of people who are willing to work more menial hourly work remains large.
The average workweek increased to 34.6 hours from a downwardly revised 34.5 hours (from 34.6).
Overall, the combined increase in the average workweek, private payrolls, and hourly earnings led to a 0.9% increase in aggregate wages in November. That is more than enough to drive an acceleration in consumption growth even if consumers opt to continue increasing their savings.
The household survey did not show much change in labor conditions from October.
Underemployment softened as the number of people working part-time for economic reasons fell by 177,000 jobs in November.The unemployment rate, including discouraged workers and underemployment, dipped to 11.4% in November from 11.5% in October.
Big Picture
The November employment report showcased a strongly improved labor market.
| Category | NOV | OCT | SEP | AUG | JUL |
| --- | --- | --- | --- | --- | --- |
| Establishment Survey | | | | | |
| Nonfarm Payrolls | 321K | 243K | 271K | 203K | 243K |
| Goods-Producing | 48K | 28K | 36K | 22K | 63K |
| Construction | 20K | 7K | 18K | 17K | 30K |
| Manufacturing | 28K | 20K | 12K | 3K | 24K |
| Service-Providing | 266K | 208K | 213K | 178K | 176K |
| Retail Trade | 50K | 34K | 40K | -4K | 25K |
| Financial | 20K | 6K | 14K | 12K | 15K |
| Business | 86K | 52K | 66K | 49K | 50K |
| Temporary help | 23K | 20K | 23K | 26K | 16K |
| Education/Health | 38K | 37K | 35K | 50K | 37K |
| Leisure/Hospitality | 32K | 55K | 47K | 26K | 10K |
| Government | 7K | 7K | 22K | 3K | 4K |
| Average Workweek | 34.6 | 34.5 | 34.5 | 34.5 | 34.5 |
| Production Workweek | 33.8 | 33.8 | 33.7 | 33.8 | 33.7 |
| Factory Overtime | 4.5 | 4.4 | 4.5 | 4.4 | 4.4 |
| Aggregate Hours Index | 0.6% | 0.2% | 0.2% | 0.2% | 0.2% |
| Avg Hourly Earnings | 0.4% | 0.1% | 0.0% | 0.3% | 0.0% |
| Household Survey | | | | | |
| Household Survey | | | | | |
| Civilian Unemp. Rate | 5.8% | 5.8% | 5.9% | 6.1% | 6.2% |
| Civilian Labor Force | 119K | 416K | -97K | -64K | 329K |
| Civilian Employed | 4K | 683K | 232K | 16K | 131K |
| Civilian Unemployed | 115K | -267K | -329K | -80K | 197K |