Economic
Last Update: 03-May-13 09:12 ET
Nonfarm Payrolls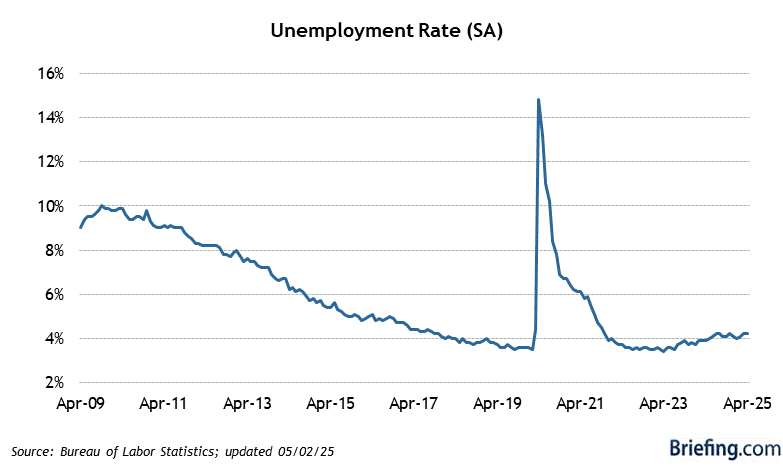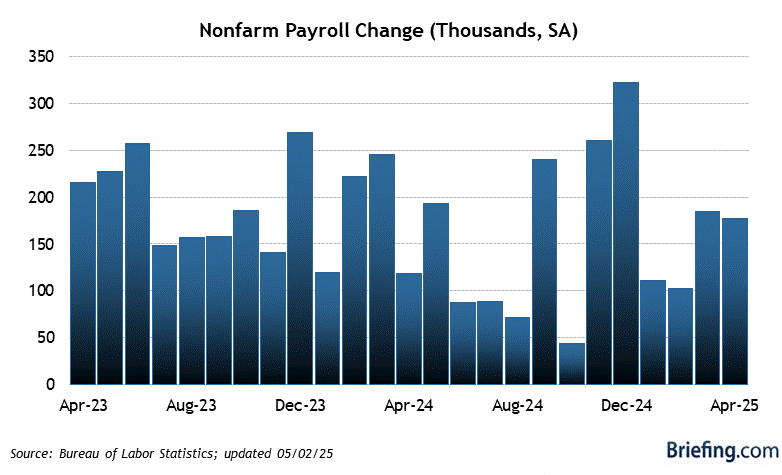 Highlights
On the surface, the employment report for April looked good. Payroll growth exceeded expectations, increasing by 165,000 . That was 10,000 more than the 155,000 expected by the Briefing.com consensus. Revisions in March, to 138,000 from 88,000, and February, to 332,000 from 268,000, were strongly positive.
The unemployment rate ticked down to 7.5% in April from 7.6% in March. The consensus expected the unemployment rate to remain at 7.6%.
Key Factors
The underlying details point toward weaker consumption levels.
The average workweek dropped to 34.4 hours in April from 34.6 and average hourly earnings increased 0.2%.
The decline in workweek more than offset the increase in payrolls and earnings. Altogether, aggregate wages declined 0.3% in April. That would be the first decline in wages since January.
We are working under the assumption that consumers will gradually raise their savings rate back toward the 3.5% that it averaged during most of 2012. If households increase their savings amid declining wages, there is no chance that consumption levels can remain positive.
It would not be surprising, given these figures, if retail sales decline for a second consecutive month in April.
Unlike in past months, the drop in the unemployment rate was due to more workers finding jobs. The number of employed rose by 293,000.
Unfortunately, most of those new jobs were found in part time employment. The number of employed persons working part time for economic reasons increased by 278,000. That could explain why the average workweek shrank.
Big Picture
The Fed has stated that rates will remain at its current level until the unemployment rate stabilizes below 6.5% or inflation increases above 2.5%. The employment report confirms that the Fed will not change their policy anytime soon.
| Category | APR | MAR | FEB | JAN | DEC |
| --- | --- | --- | --- | --- | --- |
| Establishment Survey | | | | | |
| Nonfarm Payrolls | 165K | 138K | 332K | 148K | 219K |
| Goods-Producing | -9K | 15K | 75K | 41K | 58K |
| Construction | -6K | 13K | 48K | 24K | 38K |
| Manufacturing | 0K | 2K | 23K | 14K | 13K |
| Service-Providing | 185K | 139K | 244K | 123K | 166K |
| Retail Trade | 29K | -4K | 26K | 22K | 6K |
| Financial | 9K | 5K | 15K | 7K | 9K |
| Business | 73K | 64K | 93K | 46K | 35K |
| Temporary help | 31K | 26K | 28K | 12K | 12K |
| Education/Health | 28K | 46K | 31K | 15K | 36K |
| Leisure/Hospitality | 43K | 38K | 63K | 31K | 40K |
| Government | -11K | -16K | 13K | -16K | -5K |
| Average Workweek | 34.4 | 34.6 | 34.5 | 34.4 | 34.5 |
| Production Workweek | 33.7 | 33.8 | 33.8 | 33.6 | 33.7 |
| Factory Overtime | 4.3 | 4.4 | 4.3 | 4.2 | 4.2 |
| Aggregate Hours Index | -0.4% | 0.4% | 0.5% | -0.1% | 0.5% |
| Avg Hourly Earnings | 0.2% | 0.0% | 0.2% | 0.1% | 0.3% |
| Household Survey | | | | | |
| Household Survey | | | | | |
| Civilian Unemp. Rate | 7.5% | 7.6% | 7.7% | 7.9% | 7.8% |
| Civilian Labor Force | 210K | -496K | -130K | 143K | 192K |
| Civilian Employed | 293K | -206K | 170K | 17K | 28K |
| Civilian Unemployed | -83K | -290K | -300K | 126K | 164K |