Economic
Last Update: 29-Apr-13 08:46 ET
Personal Income and Spending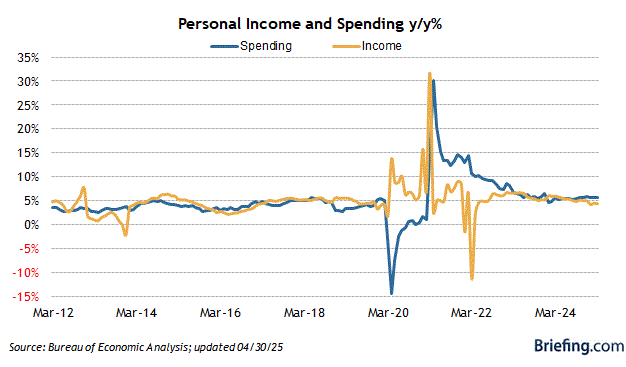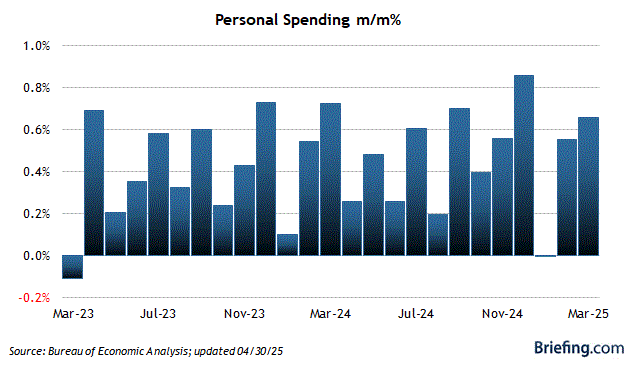 Highlights
Personal income and spending both rose 0.2% in March. The Briefing.com consensus expected income to increase 0.3% and spending to rise 0.1%.
Key Factors
The March income and spending data were already incorporated in the first quarter GDP report that was released last Friday. The only new information was that January income growth was revised up to -3.6% from -3.7% and that January spending growth was revised down to 0.3% from 0.4%. The February growth rates were unrevised.
The personal savings rate remained at 2.7% for a second consecutive month, which is well below the 3.5% it averaged for much of 2012. We anticipate the savings rate will inch higher over the next few months.
Inflation levels softened in March. Headline consumer prices fell 0.1% after increasing 0.4% in February. Core price growth was flat after increasing 0.1% in February.
Year-over-year, core consumer prices increased 1.1%, which is well below the 1.5% - 2.0% Federal Reserve inflation target.
Big Picture
The effects of the tax increases will weaken consumption growth over the next couple of months.
| Category | MAR | FEB | JAN | DEC | NOV |
| --- | --- | --- | --- | --- | --- |
| Personal Income | | | | | |
| Total Income | 0.2% | 1.1% | -3.6% | 2.6% | 1.0% |
| Wage and Salary | 0.2% | 0.7% | -0.6% | 0.7% | 1.0% |
| Disposable Income | 0.2% | 1.1% | -4.0% | 2.7% | 1.0% |
| Savings Rate | 2.7% | 2.7% | 2.3% | 6.5% | 4.0% |
| Personal Consumption | | | | | |
| Total (Nominal) | 0.2% | 0.7% | 0.3% | 0.2% | 0.3% |
| Total (Real, Chain $) | 0.3% | 0.3% | 0.2% | 0.2% | 0.5% |
| Core PCE Deflator | | | | | |
| Month/Month | 0.0% | 0.1% | 0.2% | 0.0% | 0.1% |
| Year/Year | 1.1% | 1.3% | 1.4% | 1.4% | 1.5% |