Economic
Last Update: 28-Aug-15 18:15 ET
Retail Sales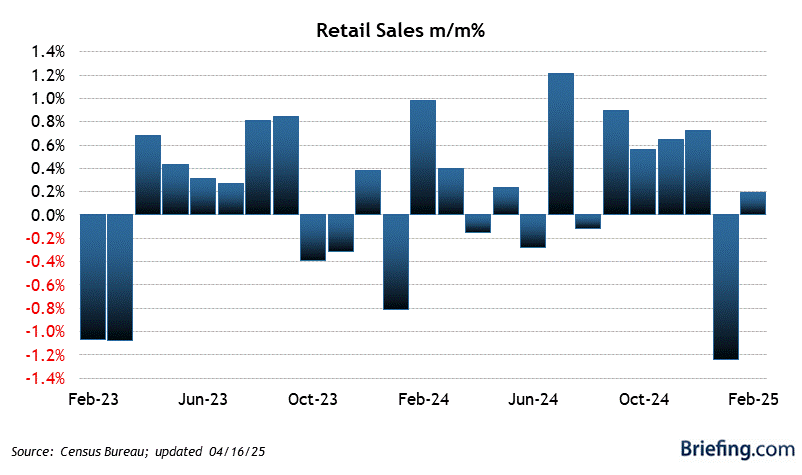 Highlights
Retail sales increased 0.6% in July after an upward revision brought sales to the flat line (from -0.3%) in June. The Briefing.com Consensus expected retail sales to increase 0.5%.
Excluding autos, retail sales increased 0.4% in July after increasing an upwardly revised 0.4% (from -0.1%) in June.
Core sales - which exclude sales at motor vehicle dealers, gasoline stations, and building material and supply stores – increased 0.3% in July, up from a 0.2% gain in June. These sales more closely track the goods component of GDP than the headline retail sales.
Key Factors
As expected, motor vehicle demand played a large part in the increase in sales growth. Motor vehicle manufacturers reported that unit sales increased to 17.6 mln SAAR in July from 17.0 mln SAAR in June. That gain pushed up sales at motor vehicle and parts dealers by 1.4% after declining 1.5% in May.
The July gain seems solid on the surface. However, it came at a time when aggregate earnings rose a much more substantial 0.7%. Taken together, consumers held back some of their newfound income growth, which likely drove up the savings rate.
At a time when consumer sentiment is strong and there is labor market security, measured by trends in the initial claims level, which is near a 40-year low, it was expected that consumers would relax their savings behavior and demand more consumables.
Sector wise, large gains were reported in the furniture (0.8%), sporting goods (0.9%), and nonstore (1.5%)sectors. Sales declined at electronics and appliance stores (-1.2%) and department stores (-0.8%).
Big Picture
Sales picked up in July, but there is still more room for improvement given the latest income trends.
| Category | JUL | JUN | MAY | APR | MAR |
| --- | --- | --- | --- | --- | --- |
| Retail Sales | 0.6% | 0.0% | 1.2% | 0.0% | 1.5% |
| Excluding Autos | 0.4% | 0.4% | 1.0% | 0.2% | 0.9% |
| Durable goods | | | | | |
| Building Materials | 0.7% | 0.2% | 0.2% | -1.8% | 2.8% |
| Autos/parts | 1.4% | -1.5% | 1.9% | 0.6% | 3.5% |
| Furniture | 0.8% | -1.0% | 1.6% | 0.7% | 2.4% |
| Nondurable goods | | | | | |
| General Merchandise | -0.5% | 0.8% | 1.3% | -0.6% | 1.4% |
| Food | 0.0% | 0.0% | 0.6% | -0.3% | 0.7% |
| Gasoline stations | 0.4% | 1.8% | 3.9% | -0.9% | 1.1% |
| Clothing | 0.4% | -0.9% | 1.9% | 0.2% | 1.1% |
| e*retailing/non-store | 1.5% | -0.2% | 0.7% | -0.1% | 0.6% |