Economic
Last Update: 21-May-15 17:41 ET
Retail Sales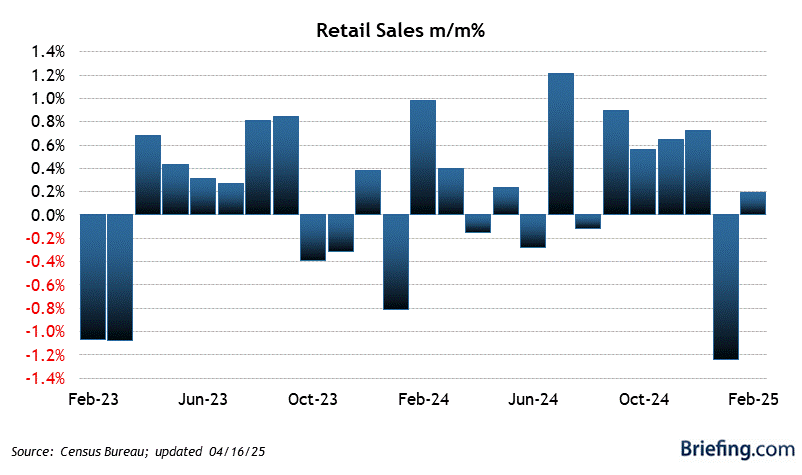 Highlights
Retail sales were flat in April after increasing an upwardly revised 1.1% (from 0.9%) in March. The Briefing.com Consensus expected retail sales to increase 0.2%.
Excluding motor vehicles, retail sales increased a modest 0.1% after increasing an upwardly revised 0.7% (from 0.4%) in March. The consensus expected these sales to increase 0.4%.
Core retail sales, which exclude motor vehicle dealers, gasoline stations, and building material and supply stores, increased 0.1% in April. That was down from a 0.6% gain in March. Core sales more closely match with the goods component in the personal consumer expenditures category of GDP.
Key Factors
The key to the report is that consumers are continuing to hold on to their savings.
In the first quarter, the added income that was derived from lower oil prices was used to stockpile additional savings instead of boosting consumption. Now that gasoline prices are again on the rise, consumers are not only not liquidating their savings to pay for the higher gasoline costs, but they are adding more to their savings stockpile.
Spending in April was well below the 0.3% increase in aggregate earnings that was reported in the April employment report.
The trend of maintaining an elevated savings rate in lieu of consumption will keep second quarter growth from returning to its potential rate (2.8% - 3.2%).
Auto manufacturers reported a steep decline in the number of units sold in April (16.5 mln SAAR from 17.1 mln SAAR). That translated into a 0.4% decline at motor vehicle and parts dealers, down from a prior 2.9% increase.
Big Picture
Consumers continue to prefer savings over spending.
| Category | APR | MAR | FEB | JAN | DEC |
| --- | --- | --- | --- | --- | --- |
| Retail Sales | 0.0% | 1.1% | -0.5% | -0.8% | -0.9% |
| Excluding Autos | 0.1% | 0.7% | -0.1% | -1.1% | -0.9% |
| Durable goods | | | | | |
| Building Materials | 0.3% | 2.3% | -2.0% | 1.3% | -0.7% |
| Autos/parts | -0.4% | 2.9% | -2.2% | 0.6% | -0.9% |
| Furniture | -0.9% | 1.8% | -1.4% | -0.3% | 1.4% |
| Nondurable goods | | | | | |
| General Merchandise | -0.5% | 1.4% | -2.4% | 0.4% | -0.5% |
| Food | -0.1% | -0.2% | 0.0% | -0.2% | 0.5% |
| Gasoline stations | -0.7% | 0.4% | 2.5% | -9.9% | -7.9% |
| Clothing | 0.2% | 0.9% | 0.3% | -1.0% | -1.1% |
| e*retailing/non-store | 0.8% | 0.1% | 1.8% | -0.1% | -0.2% |