Economic
Last Update: 12-Feb-15 09:10 ET
Retail Sales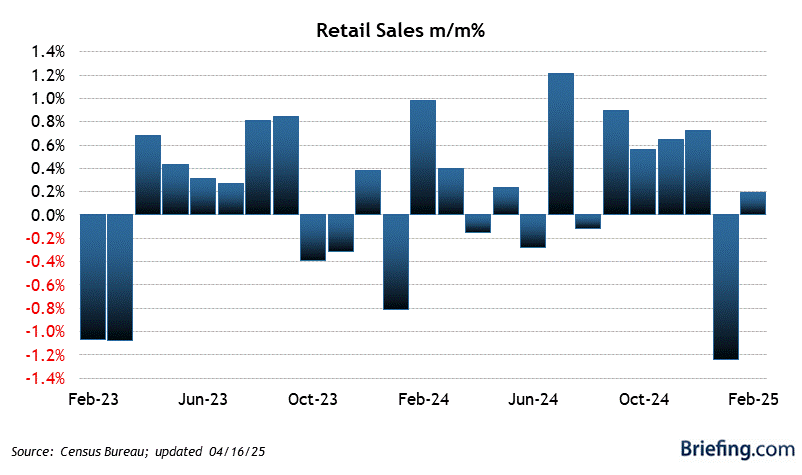 Highlights
Retail sales declined 0.8% in January after declining an unrevised 0.9% in December. The Briefing.com Consensus expected retail sales to decline 0.4% in January.
Excluding autos, sales fell an even larger 0.9% in January after declining by the same amount in December. The consensus expected these sales to also decline 0.4% in January.
Key Factors
The story of the retail sales report begins with lower gasoline prices. Sales at gasoline stations declined 9.3% in January after falling 7.4% in December. That decline weighed down overall retail sales growth.
Unfortunately, the story doesn't end there.
Lower gasoline prices were expected to spark a broad acceleration in retail sales growth. Essentially, the windfall from spending less at the pump was supposed to transfer to other areas of the economy.
That did not happen.
Core retail sales, which exclude motor vehicle dealers, gasoline stations, and building material and supply stores, increased by a very modest 0.2% in January. The gain is even less impressive when compared to the sizable 0.7% increase in aggregate earnings reported in the January employment report.
As sales growth underperforms income growth, the personal savings rate should inch higher.
Big Picture
Strong income growth fails to spark retail sales demand.
| Category | JAN | DEC | NOV | OCT | SEP |
| --- | --- | --- | --- | --- | --- |
| Retail Sales | -0.8% | -0.9% | 0.4% | 0.3% | -0.1% |
| Excluding Autos | -0.9% | -0.9% | 0.2% | 0.2% | 0.1% |
| Durable goods | | | | | |
| Building Materials | 0.6% | -0.7% | 1.9% | 0.1% | -0.2% |
| Autos/parts | -0.5% | -0.8% | 1.4% | 0.7% | -0.7% |
| Furniture | -0.7% | 1.3% | -0.2% | 1.3% | -0.5% |
| Nondurable goods | | | | | |
| General Merchandise | 0.1% | -0.9% | 0.3% | -0.1% | -0.2% |
| Food | -0.3% | 0.6% | 0.4% | 0.2% | 0.4% |
| Gasoline stations | -9.3% | -7.4% | -3.2% | -2.2% | -0.8% |
| Clothing | -0.8% | -1.2% | 2.1% | 0.9% | -1.3% |
| e*retailing/non-store | 0.5% | -0.3% | 0.8% | 1.5% | 0.0% |