Economic
Last Update: 13-Aug-14 08:56 ET
Retail Sales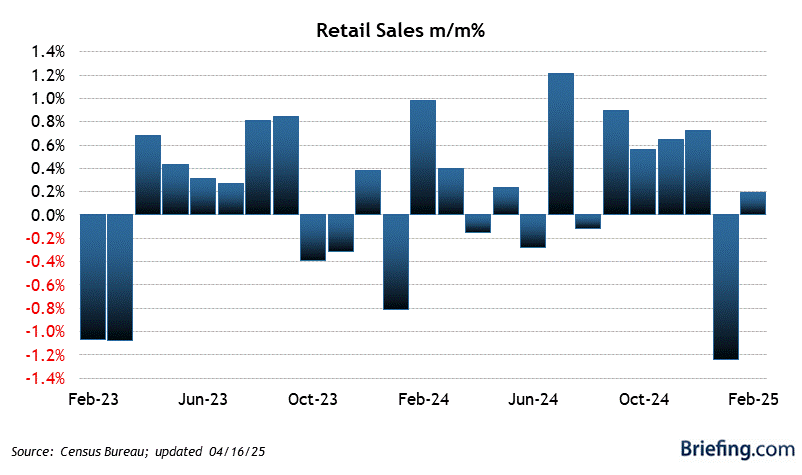 Highlights
Retail sales growth was flat in July following an unrevised 0.2% increase in June. The Briefing.com consensus expected retail sales to increase 0.3%.
Excluding motor vehicle sales, demand increased 0.1% in July after increasing an unrevised 0.4% in June. The consensus expected these sales to increase 0.3%.
Core retail sales, which exclude motor vehicle dealers, building materials and supply stores, and gasoline stations, increased 0.1% in July after increasing 0.5% in June. These sales follow closely with the personal goods consumption component in the GDP report.
Key Factors
As expected, motor vehicle sales weighed down overall consumer demand. Manufacturers already reported a drop in unit sales for July (16.5 mln SAAR from 16.9 mln SAAR in June), which translated into a 0.2% decline in sales at motor vehicles and parts dealers. Motor vehicles and parts sales fell 0.3% in June.
According to the July employment report, aggregate earnings growth was soft at 0.2%. That didn't leave much room for consumer demand growth unless consumers dipped into their savings. Consumers have steadily increased their savings each month so far in 2014. Weak retail sales demand suggests the personal savings rate increased again in July, which kept the upward savings trend on track.
Unless the savings rate begins to decline, consumption growth will be highly reliant upon employment gains.
There wasn't anything out of the ordinary in the sales sector breakdowns. Clothing stores saw a large increase in demand with sales up 0.4%. Miscellaneous store retailers saw a second consecutive 0.9% increase in sales. Restaurant sales rose 0.2% for a second consecutive month.
Demand at furniture and electronic stores both declined 0.1% following 0.2% declines in May. After increasing 0.4% in June, sales at general merchandise stores fell 0.5% in July. Demand at department stores, specifically, dropped 0.7%.
Big Picture
Another likely uptick in savings likely kept retail sales growth in check.
| Category | JUL | JUN | MAY | APR | MAR |
| --- | --- | --- | --- | --- | --- |
| Retail Sales | 0.0% | 0.2% | 0.4% | 0.6% | 1.5% |
| Excluding Autos | 0.1% | 0.4% | 0.4% | 0.6% | 0.9% |
| Durable goods | | | | | |
| Building Materials | 0.2% | 1.0% | 1.2% | 1.4% | 2.3% |
| Autos/parts | -0.2% | -0.3% | 0.7% | 0.8% | 3.9% |
| Furniture | -0.1% | -0.2% | -0.4% | 0.8% | 2.3% |
| Nondurable goods | | | | | |
| General Merchandise | -0.5% | 0.4% | -0.5% | 1.3% | 0.9% |
| Food | 0.3% | 0.9% | 0.3% | 0.2% | -0.1% |
| Gasoline stations | 0.1% | -0.8% | 0.5% | 1.3% | -1.0% |
| Clothing | 0.4% | 0.2% | -0.6% | 1.5% | 1.5% |
| e*retailing/non-store | -0.1% | 0.6% | 0.5% | -0.4% | 2.2% |