Economic
Last Update: 18-Sep-15 21:33 ET
Retail Sales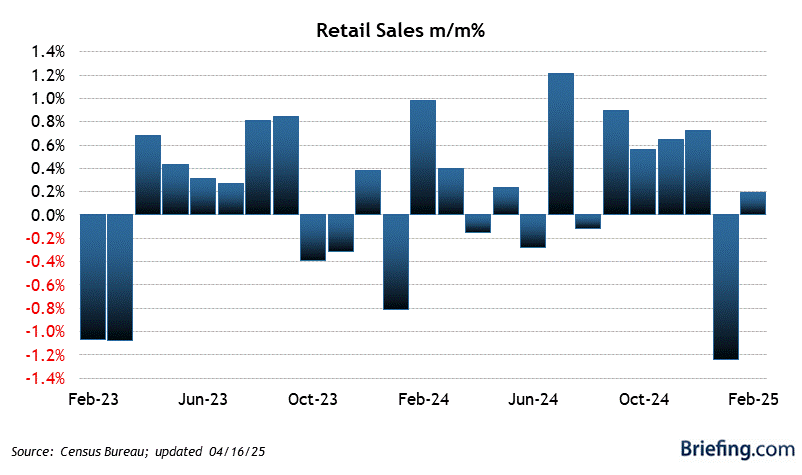 Highlights
Retail sales increased 0.2% in August after increasing an upwardly revised 0.7% (from 0.6%) in July. The Briefing.com Consensus expected retail sales to increase 0.3% in August.
Excluding autos, retail sales increased 0.1% in August after increasing an upwardly revised 0.6% (from 0.4%) in July. The consensus expected these sales to increase 0.2%.
Core sales – which exclude motor vehicle dealers, gasoline stations, and building material and supply dealers – increased a healthy 0.5% in August. That was still down, however, from an upwardly revised 0.6% (from 0.3%) gain in July. These sales closely follow the trends in goods spending in the GDP report and imply higher consumption growth than the disappointing headline.
Key Factors
The headline 0.2% gain was well below the 0.7% increase in aggregate income that was highlighted in the August employment report. That means another month of falling gasoline prices translated into higher savings instead of spending.
Motor vehicle manufacturers reported 17.8 mln SAAR vehicles sold in August, which was the best-performing month since July 2005. Unfortunately, that didn't translate into a large increase in sales at auto dealers. Sales at motor vehicle and parts dealers increased 0.7%, down from a 1.3% increase in July.
Much of the weakness in sales outside of autos stemmed from a steep drop in sales at gasoline stations (-1.8%), which was mainly the result of lower gasoline prices.
Looking at the details, large gains in restaurant spending (0.7%), grocery stores (0.7%), and clothing stores (0.4%) were offset by 1.8% decline at both gasoline stations and building material and supply stores.
Big Picture
Big income gains in August failed to spark an acceleration in retail sales growth.
| Category | AUG | JUL | JUN | MAY | APR |
| --- | --- | --- | --- | --- | --- |
| Retail Sales | 0.2% | 0.7% | 0.0% | 1.2% | 0.0% |
| Excluding Autos | 0.1% | 0.6% | 0.4% | 1.0% | 0.2% |
| Durable goods | | | | | |
| Building Materials | -1.8% | 1.9% | 0.2% | 0.2% | -1.8% |
| Autos/parts | 0.7% | 1.3% | 1.6% | 1.9% | 0.6% |
| Furniture | -0.9% | 0.8% | -1.0% | 1.6% | 0.7% |
| Nondurable goods | | | | | |
| General Merchandise | 0.4% | 0.3% | 0.7% | 1.3% | -0.6% |
| Food | 0.7% | 0.1% | 0.1% | 0.6% | -0.3% |
| Gasoline stations | -1.8% | -0.6% | 1.2% | 3.9% | -0.9% |
| Clothing | 0.4% | 0.6% | -0.9% | 1.9% | 0.2% |
| e*retailing/non-store | 0.2% | 1.7% | 0.3% | 0.7% | -0.1% |