Economic
Last Update: 14-Nov-14 08:54 ET
Retail Sales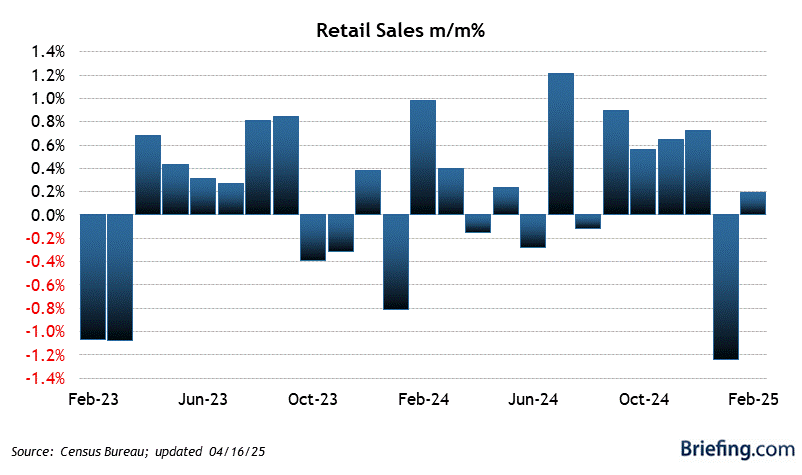 Highlights
Retail sales increased 0.3% in October after declining by 0.3% in September. The Briefing.com consensus expected retail sales to increase 0.3%.
Excluding motor vehicles, retails sales also increased 0.3% in October after an upward revision showed no growth (from -0.2%) in September. The consensus expected these orders to increase 0.2%.
Key Factors
Motor vehicle sales rose 0.5% in October after declining 1.2% in September. That was roughly in-line with the motor vehicle manufacturer reports which showed year-over-year growth at 6%.
Overall, the report was solid but not spectacular. According to the employment data, aggregate earnings increased 0.6% in September. The lack of matching sales growth suggests another increase in the savings rate.
Sales levels grew in every sector with the exception of electronics stores and gasoline stations, which were impacted by temporary and seasonal biases.
The release of the Apple (AAPL) iPhone 6 in September drove up sales at electronic stores by 4.7%. It was only natural for demand to pull back (-1.6%) in October. Meanwhile, lower gasoline prices impacted demand at gasoline stations as sales declined 1.5% in October after falling 0.8% in September.
Sales at clothing stores rebounded, up 0.5% after declining 1.5% in September. Internet purchases rose 1.9% after declining 0.3%.
Core retail sales, which exclude auto dealers, building materials and supply stores, and gasoline stations, increased a solid 0.6% in October after increasing only 0.1% in September. These goods more closely track the consumption component of GDP.
Big Picture
Another month of strong income gains did not translate into a large acceleration in consumption growth. Consumers opted to save their extra income rather than spend it.
| Category | OCT | SEP | AUG | JUL | JUN |
| --- | --- | --- | --- | --- | --- |
| Retail Sales | 0.3% | -0.3% | 0.6% | 0.3% | 0.4% |
| Excluding Autos | 0.3% | 0.0% | 0.3% | 0.2% | 0.5% |
| Durable goods | | | | | |
| Building Materials | 0.4% | -0.6% | 0.5% | -1.0% | 1.2% |
| Autos/parts | 0.5% | -1.2% | 1.9% | 0.7% | 0.0% |
| Furniture | 0.2% | 0.0% | 0.3% | -0.5% | 0.0% |
| Nondurable goods | | | | | |
| General Merchandise | 0.0% | -0.2% | 0.3% | 0.6% | 0.3% |
| Food | 0.2% | 0.4% | 0.4% | -0.2% | 1.1% |
| Gasoline stations | -1.5% | -0.8% | -1.1% | 0.0% | -0.8% |
| Clothing | 0.5% | -1.5% | 0.8% | 0.6% | 0.2% |
| e*retailing/non-store | 1.9% | -0.3% | 0.2% | 0.1% | 0.8% |