Economic
Last Update: 14-Apr-15 09:18 ET
Retail Sales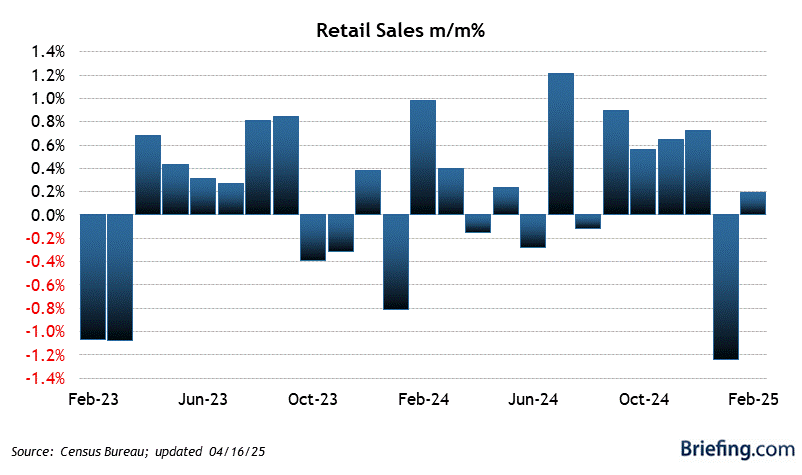 Highlights
Retail sales increased 0.9% in March after declining an upwardly revised 0.5% (from -0.6%) in February. The Briefing.com Consensus expected retail sales to increase 1.0%.
Excluding motor vehicle sales, retail sales increased 0.4% in March after an upward revision left sales flat (from -0.1%) in February. The consensus expected these sales to increase 0.7%.
Key Factors
A significant portion of the increase in March sales was the result of a rebound in motor vehicle demand. Sales at motor vehicle and parts dealers increased 2.7% in March after declining 2.1% in February. That gain was in-line with the motor vehicle manufacturer sales reports that showed unit sales surpassing 17.0 mln SAAR for the first time since November 2014.
Sales were pretty strong across the board, but not strong enough to warrant that the entire weakness in February was the result of inclement weather conditions. Overall income levels increased pretty significantly in the first quarter, and the March retail sales report showed that consumers still preferred savings over consumption in the aggregate for the quarter.
Furniture stores (1.4%), clothing stores (1.2%), restaurants (0.7%), general merchandise stores (0.6%) all reported sizable gains in March. Sales declined at gasoline stations (-0.6%), food and beverage stores (-0.5%), and electronics and appliances stores (-0.4%).
Core retail sales – which exclude motor vehicle dealers, gasoline stations, and building material and supply stores – increased 0.4% in March after declining a downwardly revised 0.2% (from -0.1%) in February. These sales more closely track consumption growth in the GDP report than the headline and still show lackluster growth trends.
Big Picture
The string of increases in the personal savings rate was broken in March, but overall trends still point to a hesitant consumer.
| Category | MAR | FEB | JAN | DEC | NOV |
| --- | --- | --- | --- | --- | --- |
| Retail Sales | 0.9% | -0.5% | -0.8% | -0.9% | 0.4% |
| Excluding Autos | 0.4% | 0.0% | -1.2% | -0.8% | 0.2% |
| Durable goods | | | | | |
| Building Materials | 2.1% | -1.8% | 1.6% | -1.2% | 1.9% |
| Autos/parts | 2.7% | -2.1% | 0.7% | -1.1% | 1.4% |
| Furniture | 1.4% | -1.2% | -0.5% | 1.9% | -0.2% |
| Nondurable goods | | | | | |
| General Merchandise | 0.6% | -1.9% | 0.3% | -0.3% | 0.3% |
| Food | -0.5% | 0.1% | -0.3% | 0.6% | 0.4% |
| Gasoline stations | -0.6% | 2.3% | -10.1% | -7.5% | -3.2% |
| Clothing | 1.2% | 0.0% | -1.0% | -1.3% | 2.1% |
| e*retailing/non-store | -0.1% | 1.6% | -0.4% | -0.4% | 0.8% |