Economic
Last Update: 13-Feb-14 09:09 ET
Retail Sales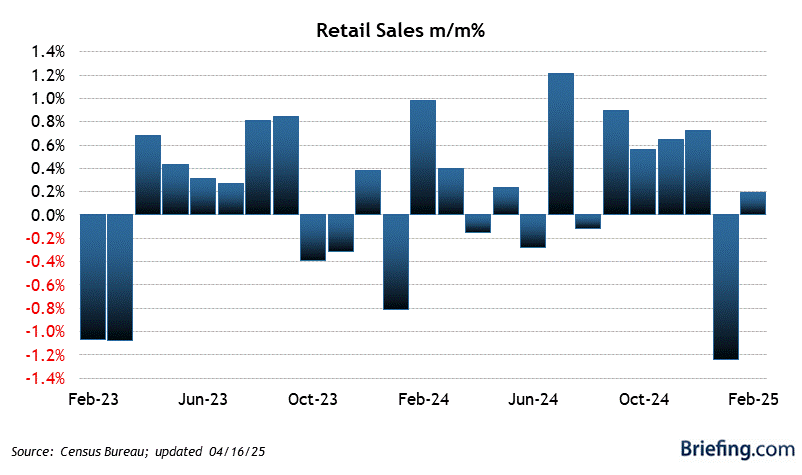 Highlights
Retail sales fell 0.4% in January after declining a downwardly revised 0.1% (from +0.2%) in December. The Briefing.com consensus expected flat retail sales growth in January.
Sales excluding autos were flat after increasing a downwardly revised 0.3% (from 0.7%) in December. The consensus expected these sales to increase 0.1%.
Key Factors
The report was discouraging and many are going to point to extreme winter weather conditions as the primary cause for the larger-than-expected decline. That scenario holds some truth. Sectors that are normally affected by weather conditions such as motor vehicle sales, down 2.1%, and restaurants, down 0.6%, saw significant pullbacks.
However, spending in general was weaker across the board. That could signal that the spending out of savings that occurred in December was a one-time event related to the holidays and not the start of a new trend.
In fact, core sales - which exclude motor vehicle dealers, building materials and supply stores, and gasoline stations – were down 0.3% in January after increasing a downwardly revised 0.1% (from 0.7%) in December. That was the first decline in core sales since February 2013. Since these sales follow the consumption component of GDP, the downside shock could suggest the consumer is not as healthy as once thought.
The relationship between savings and spending will be key for economic growth trends in 2014.
Looking through the details, sales at clothing stores fell 0.9% and demand at sporting goods and hobby stores declined 1.4%. Sales at grocery stores were up 0.4%, possibly a result of consumers stocking up from the winter conditions.
Big Picture
In December, consumer spent out of savings. In January, that trend reversed. The question is why did this occur. If the weather conditions are to blame, then spending growth should rebound in the near future.
| Category | JAN | DEC | NOV | OCT | SEP |
| --- | --- | --- | --- | --- | --- |
| Retail Sales | -0.4% | -0.1% | 0.3% | 0.5% | 0.1% |
| Excluding Autos | 0.0% | 0.3% | -0.2% | 0.4% | 0.4% |
| Durable goods | | | | | |
| Building Materials | 1.4% | 0.0% | 0.9% | -2.1% | 0.0% |
| Autos/parts | -2.1% | -1.8% | 2.0% | 1.0% | -1.1% |
| Furniture | -0.6% | -3.0% | -1.5% | 1.3% | 1.2% |
| Nondurable goods | | | | | |
| General Merchandise | -0.1% | -0.4% | -0.1% | 0.2% | 0.1% |
| Food | 0.2% | 1.7% | -0.2% | 0.0% | 0.7% |
| Gasoline stations | 1.1% | 1.5% | -1.7% | -0.3% | 0.2% |
| Clothing | -0.9% | 0.7% | -1.2% | 2.8% | -1.2% |
| e*retailing/non-store | -0.6% | 1.3% | 1.0% | 0.4% | 0.7% |