April Nonfarm Payrolls
Updated 25-May-11 21:12 ET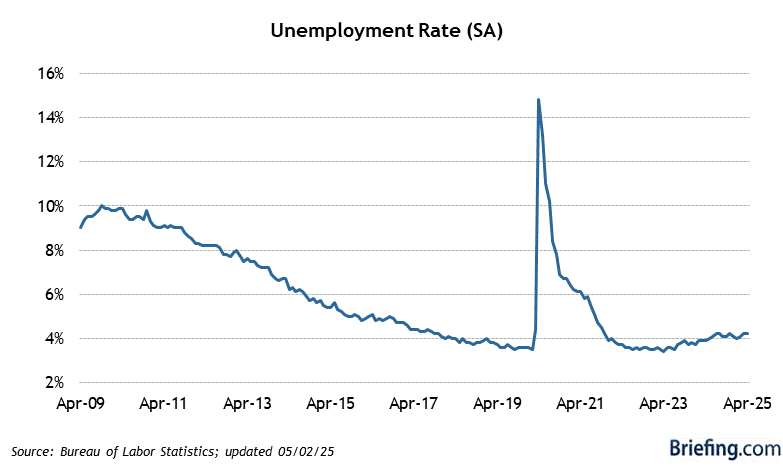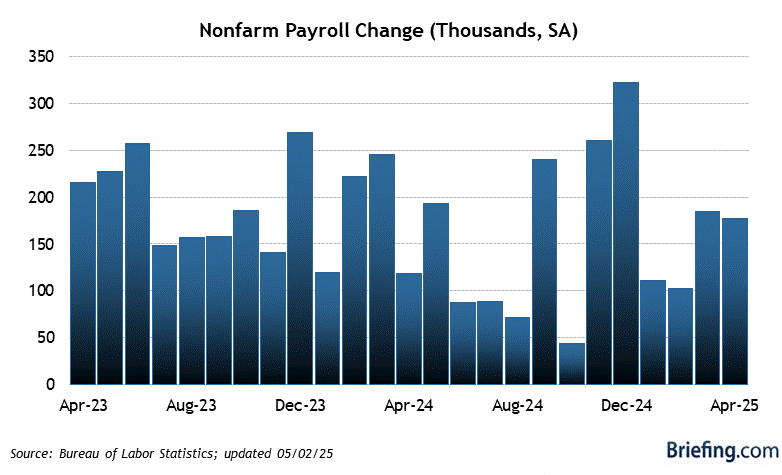 Highlights
Nonfarm payrolls surged in April as firms added 244,000 new jobs during the month. The Briefing.com consensus expected payrolls to increase by only 185,000 jobs.
On top of the April gains, payrolls in February and March were revised up from 194,000 and 216,000, respectively, to 235,000 and 221,000.
Unfortunately, while firms are revealing more jobs, the number of people actually employed declined considerably in April. The unemployment rate increased from 8.8% in March to 9.0% in April. The consensus expected the unemployment rate to remain unchanged.
Key Factors
Even though April payroll growth greatly outperformed the consensus expectation, it is difficult to describe the gains as a surprise. Normally, payroll forecasts are based upon changes in initial and continuing claims levels. However, for the past four weeks exogenous factors have upwardly biased the jobless claims data. Therefore, there was a high probability of the consensus forecast underestimating payroll growth.
This is not to suggest that the gains in April should be discounted. The growth was certainly strong enough to showcase a solid improvement in the labor situation and provide evidence of a growing economy.
In fact, private payrolls added 268,000 jobs during the month. This was the most jobs added in one month since November 2005 when private payrolls added 304,000 jobs. The consensus expected private payrolls to increase by only 200,000.
Typically, the unemployment rate and payrolls move in lockstep with each other, but it is not abnormal for the surveys to move in opposite directions. When this happens, the two surveys tend to converge within a month or two.
It is unclear, however, if the increase in the unemployment rate this month is foreshadowing a potential weakening in payroll growth next month or if the drop in employment is corrected in May.
Big Picture
The labor market is recovering in a more deliberate fashion which, in turn, is helping to keep wage inflation in check. The stock market of course has fared just fine in recent months digesting that reality. That should continue to be the case, because the prevailing message is clear: labor trends are improving, but not at a fast enough pace for the Fed to take its foot off the quantitative easing pedal.
| Category | APR | MAR | FEB | JAN | DEC |
| --- | --- | --- | --- | --- | --- |
| Establishment Survey | | | | | |
| Nonfarm Payrolls | 244K | 221K | 235K | 68K | 152K |
| Goods-Producing | 44K | 37K | 81K | 38K | 4K |
| Construction | 5K | 2K | 39K | -20K | -6K |
| Manufacturing | 29K | 22K | 37K | 53K | 11K |
| Service-Providing | 224K | 194K | 180K | 56K | 163K |
| Retail Trade | 57K | -3K | 0K | 31K | 6K |
| Financial | 4K | 5K | -1K | -10K | 1K |
| Business | 51K | 86K | 38K | 51K | 58K |
| Temporary help | -2K | 34K | 12K | -1K | 43K |
| Education/Health | 49K | 33K | 43K | 29K | 28K |
| Leisure/Hospitality | 46K | 51K | 54K | -3K | 17K |
| Government | -24K | -10K | -26K | -26K | -15K |
| Average Workweek | 34.3 | 34.3 | 34.3 | 34.2 | 34.2 |
| Production Workweek | 33.6 | 33.6 | 33.5 | 33.4 | 33.5 |
| Factory Overtime | 4.2 | 4.3 | 4.2 | 4.1 | 4.0 |
| Aggregate Hours Index | 0.3% | 0.2% | 0.5% | 0.0% | 0.2% |
| Avg Hourly Earnings | 0.1% | 0.2% | 0.1% | 0.4% | 0.0% |
| Household Survey | | | | | |
| Civilian Unemp. Rate | 9.0% | 8.8% | 8.9% | 9.0% | 9.4% |
| Civilian Labor Force | 15K | 160K | 60K | -504K | -260K |
| Civilian Employed | -190K | 291K | 250K | 117K | 297K |
| Civilian Unemployed | 205K | -131K | -190K | -622K | -556K |