Economic
Last Update: 30-Apr-13 10:07 ET
Chicago PMI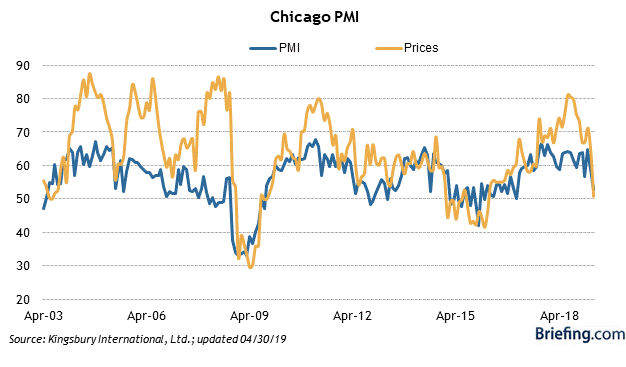 Highlights
Manufacturing activity in the Chicago region in April contracted for the first time since September 2009, falling from 52.4 in March to 49.0. The Briefing.com consensus expected the Chicago PMI to decline to 52.0.
Key Factors
After hitting a relative peak of 60.9 in January, production levels have dropped swiftly over the past few months and broke through the contraction threshold in April. The production index dropped to 49.9 from 51.8 in March.
New orders managed a small gain, increasing from 53.0 in March to 53.2 in April. The gain in new orders, however, was not enough to offset the severe downward trend in the number of unfilled orders. That index dropped to 40.6 from 45.0. Without a steady supply of unfilled orders, it would take a large jump in new orders to boost production above the 50.0 expansion/contraction demarcation point.
The employment index fell from 55.1 in March to 48.7 in April.
Big Picture
The Chicago PMI has little overall economic value, and is only watched by the financial markets because it is usually released one day in advance of the similar national ISM manufacturing survey. A significant move in this regional survey will therefore sometimes be seen as having predictive value for the ISM index.
| Category | APR | MAR | FEB | JAN | DEC |
| --- | --- | --- | --- | --- | --- |
| Chicago PMI | 49.0 | 52.4 | 56.8 | 55.6 | 50.0 |
| New Orders | 53.2 | 53.0 | 60.2 | 58.2 | 50.4 |
| Production | 49.9 | 51.8 | 60.2 | 60.9 | 52.4 |
| Employment | 48.7 | 55.1 | 55.7 | 58.0 | 46.8 |
| Prices Paid | 51.0 | 61.0 | 61.8 | 60.7 | 62.9 |