Economic
Last Update: 01-May-13 10:26 ET
Construction Spending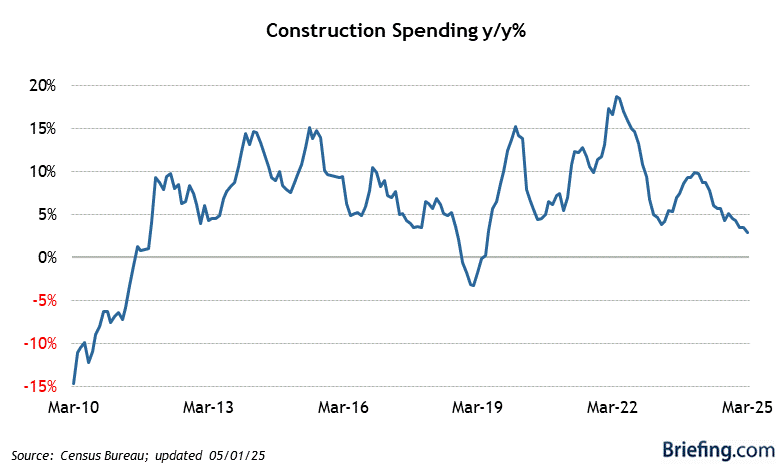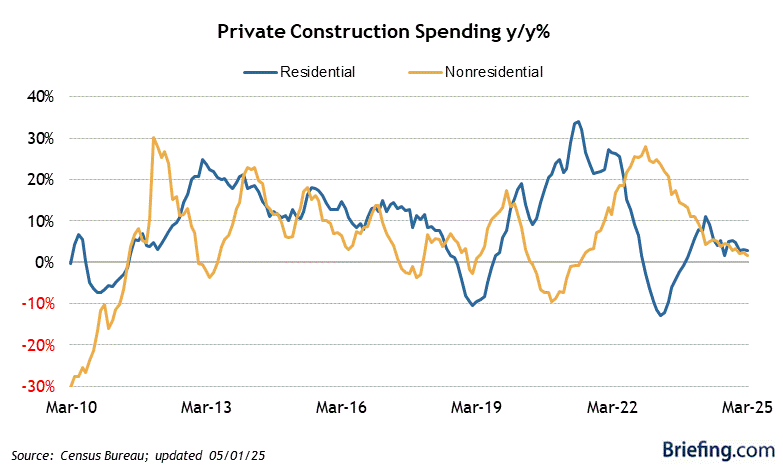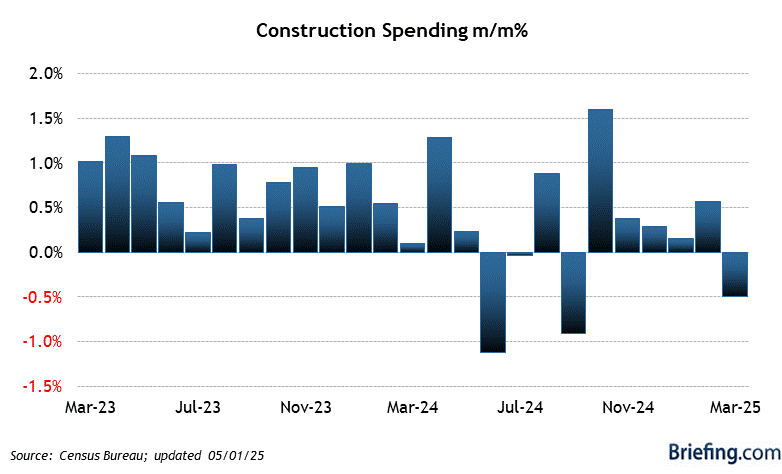 Highlights
Total construction spending fell 1.7% in March after increasing an upwardly revised 1.5% (from 1.2%) in February. The Briefing.com consensus expected construction spending to increase 0.5%.
Key Factors
Most of the decline was the result of weaker public construction spending. That sector declined 4.1% in March after increasing 1.5% in February. This drop helps explain why government spending fell substantially in the first quarter GDP report.
Private construction spending also declined, but at a more modest 0.6%.
Private residential construction increased 0.4%. That may seem a little light considering the surge in the number of new homes started in March. However, most of the increase in starts came from the multifamily sector, which spends considerably less per month on each active unit under construction.
Spending on structures rose 1.4% while home improvement project spending fell 1.4%.
Private nonresidential construction spending declined 1.5%. Large declines in commercial (-3.1%), power (-2.3%), and manufacturing (-1.1%) outweighed small gains in lodging (2.4%) and office (0.8%).
Big Picture
These data gets less attention than deserved. The data go directly into the GDP report. Residential construction has dropped to about 3% of GDP, while nonresidential construction is about 4% of GDP.
| Category | MAR | FEB | JAN | DEC | NOV |
| --- | --- | --- | --- | --- | --- |
| Nominal (Current) Dollars | | | | | |
| Total Construction | -1.7% | 1.5% | -4.0% | 0.1% | 1.9% |
| Private | -0.6% | 1.5% | -5.1% | 1.1% | 2.7% |
| Residential | 0.4% | 2.3% | -3.4% | -0.8% | -0.1% |
| Nonresidential | -1.5% | 0.8% | -6.7% | 2.8% | 5.5% |
| Public | -4.1% | 1.5% | -1.4% | -2.0% | 0.0% |