Economic
Last Update: 21-May-19 13:09 ET
Business Inventories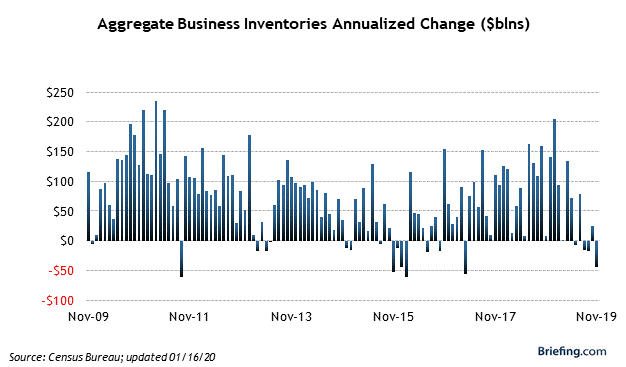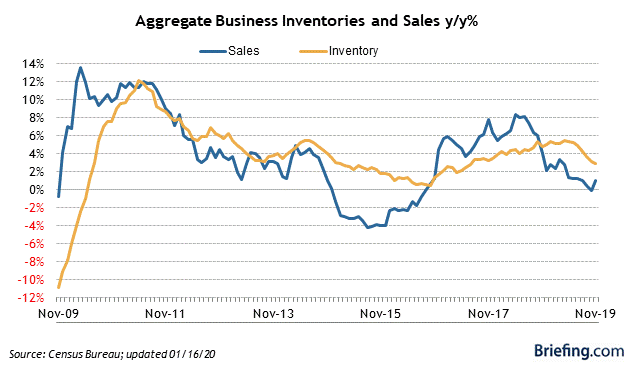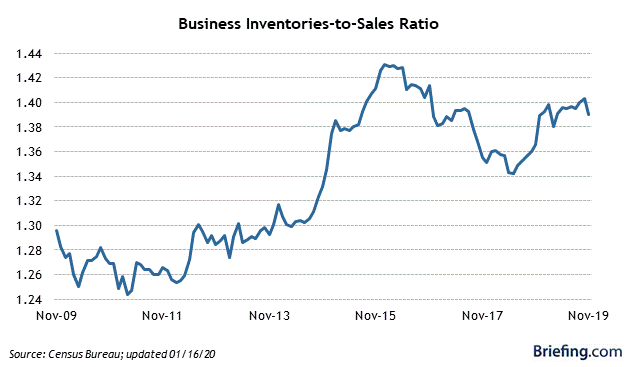 Highlights
Business inventories were unchanged in March, as expected, following an unrevised 0.3% increase in February.
Business sales increased 1.6% on the heels of an upwardly revised 0.2% increase (from 0.1%) in February.
Key Factors
Manufacturers' and wholesalers' inventories were known ahead of time, so the missing variable was the report on retailers' inventories, which declined 0.3% after increasing 0.2% in February.
The decline in retailers' inventories was led by a 0.9% drop in motor vehicle and parts inventories.
The inventories-to-sales ratio fell to 1.37 in April from 1.39 in March, but was up from 1.36 in the same period a year ago.
Big Picture
The key takeaway from the report is that the inventory growth on a yr/yr basis (+5.0%) continues to outpace sales growth (+3.7%), which should keep price pressures in check.
| Category | MAR | FEB | JAN | DEC | NOV |
| --- | --- | --- | --- | --- | --- |
| Inventories | 0.0% | 0.3% | 0.9% | 0.8% | 0.0% |
| Manufacturers | 0.4% | 0.3% | 0.5% | 0.1% | -0.1% |
| Retailers | -0.3% | 0.2% | 0.8% | 1.1% | -0.4% |
| Wholesalers | -0.1% | 0.4% | 1.2% | 1.1% | 0.4% |
| Sales | 1.6% | 0.2% | 0.3% | -0.9% | -0.4% |
| Manufacturers | 0.7% | 0.5% | -0.3% | -0.2% | -0.5% |
| Retailers | 1.8% | -0.4% | 0.8% | -1.8% | 0.0% |
| Wholesalers | 2.3% | 0.3% | 0.5% | -0.7% | -0.8% |
| Inventory/Sales | 1.37 | 1.39 | 1.39 | 1.39 | 1.36 |
| Manufacturers | 1.36 | 1.36 | 1.36 | 1.35 | 1.35 |
| Retailers | 1.45 | 1.48 | 1.47 | 1.47 | 1.43 |
| Wholesalers | 1.32 | 1.35 | 1.35 | 1.34 | 1.32 |