Economic
Last Update: 26-Feb-19 10:20 ET
Consumer Confidence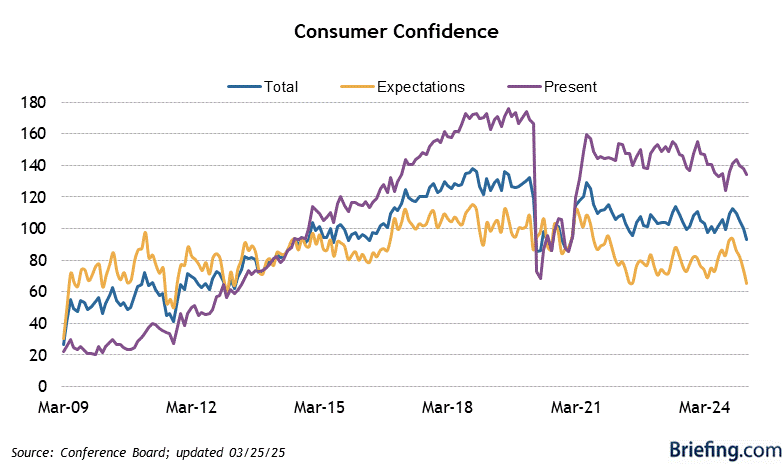 Highlights
The Conference Board's Consumer Confidence Index jumped to 131.4 in February (Briefing.com consensus 125.0) from an upwardly revised 121.7 (from 120.2) in January. The February reading broke a string of three consecutive monthly declines in the index.
Key Factors
The Present Situation improved from 170.2 to 173.5.
The Expectations Index surged from 89.4 to 103.4.
Big Picture
The key takeaway from the report is that consumers' attitude about the outlook improved greatly, coinciding with the sharp improvement in the stock market, continued strength in the labor market, and the end of the partial government shutdown. That upbeat outlook should be a supportive factor for consumer spending.
| Category | FEB | JAN | DEC | NOV | OCT |
| --- | --- | --- | --- | --- | --- |
| Conference Board | 131.4 | 121.7 | 126.6 | 136.4 | 137.9 |
| Expectations | 103.4 | 89.4 | 97.7 | 112.3 | 115.1 |
| Present Situation | 173.5 | 170.2 | 169.9 | 172.7 | 171.9 |
| Employment ('plentiful' less 'hard to get') | 34.3 | 34.1 | 33.3 | 34.2 | 32.0 |
| 1 yr inflation expectations | 4.3% | 4.4% | 4.5% | 4.7% | 4.8% |