Economic
Last Update: 05-Mar-19 10:50 ET
ISM Non-Manufacturing Index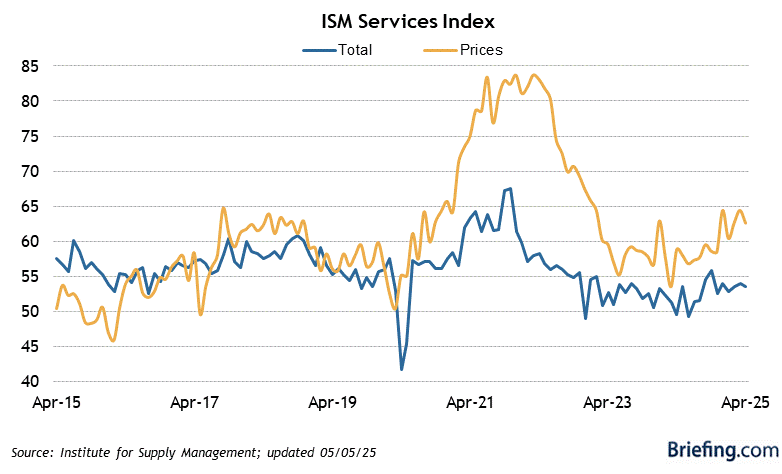 Highlights
The ISM Non-Manufacturing Index increased to 59.7 in February (Briefing.com consensus 57.2) from 56.7 in January.
The dividing line between expansion and contraction is 50.0, so the increase in February reflects an acceleration in business activity in the non-manufacturing sector.
Key Factors
The New Orders Index increased to 65.2 from 57.7.
The Employment Index fell to 55.2 from 57.8.
The Prices Index dropped to 54.4 from 59.4.
The Backlog of Orders Index rose to 55.5 from 52.5.
Big Picture
The key takeaway from the report is that it featured a sizable increase for the New Orders component, which is a positive marker that will help push out the recession narrative for the U.S. economy since the non-manufacturing sector accounts for a much larger chunk of economic activity than the manufacturing sector does.
According to the ISM, the past relationship between the Non-Manufacturing PMI and the overall economy indicates the February reading corresponds to a 3.9% increase in real GDP on an annualized basis.
| Category | FEB | JAN | DEC | NOV | OCT |
| --- | --- | --- | --- | --- | --- |
| Non-Manufacturing ISM index | 59.7 | 56.7 | 58.0 | 60.7 | 60.3 |
| Business Activity | 64.7 | 59.7 | 61.2 | 65.2 | 62.5 |
| New Orders | 65.2 | 57.7 | 62.7 | 62.5 | 61.5 |
| Employment | 55.2 | 57.8 | 56.6 | 58.4 | 59.7 |
| Deliveries (nsa) | 53.5 | 51.5 | 51.5 | 56.5 | 57.5 |
| Inventories (nsa) | 51.0 | 49.0 | 51.5 | 57.5 | 56.0 |
| Exports (nsa) | 55.0 | 50.5 | 59.5 | 57.5 | 61.0 |
| Imports (nsa) | 48.5 | 52.0 | 53.5 | 54.5 | 51.0 |
| Prices Paid | 54.4 | 59.4 | 58.0 | 64.3 | 61.7 |